Walney to Whitby.

August 2011 and a mixed forecast saw us heading west to east on this sustrans cycle route number 20.
Day 1 - Walney to Orton - 65 miles - 5,000 feet of ascent
| | |
| --- | --- |
| Walney | Detour through the fields |
Past the submarine sheds and across an old quay we stopped briefly for a coffee and snack at the maritime museum. Although it was past midday we thought we had plenty of time as we only had 65 miles to cover to Orton. Leaving Barrow and passing Furness Abbey the rain was holding off and we were making reasonable progress. 20 minutes later we were pushing our bikes through the fields near North Stank due to a road closure. Eventually we found a way through but our average speed had plummeted and we were running behind schedule. The route across the Lake District Peninsulas seems to seek out every hill as it winds its way towards Grange. We had a few heavy showers and the next section to Levens although it was flat was very wet and led us into a very hilly section to the River Lune. Vicious climbs and steep descents one after another. The 65 miles to Orton included 5,000 feet of climbing and were very tiring. Luckily Val had sorted out our accommodation and we were soon changed and eating a good meal in the village pub.
| | |
| --- | --- |
| Above a damp Kendal | Howgill |
Day 2 - Orton to Lucy Cross (near Darlington) - 54 miles - 3,700 feet of ascent

The middle day would take in the biggest hills of the route, over the Pennines to Teesdale. But the weather was set fair and also a stiff Westerly wind would really help us.
| | |
| --- | --- |
| Leaving Orton | Near Sunbiggin Tarn |
After Kirkby Stephen (quick coffee stop) the 3 mile climb to England's highest Inn, Tan Hill, was always going to be tough but tackled at a steady pace we made good progress and soon the Inn was in sight as we were blown Eastwards. It was just 10c at Tan Hill so we didn't stop for long! The next section to Bowes covered some rough track but was very rapid. We stopped briefly to look around the impressive castle at Bowes before a final climb and another rapid descent to Barnard Castle.
| | |
| --- | --- |
| Another visit to Tanhill on our tandem | Over the river Tees at Barnard Castle |
The bridge over the River Tees leading into Barnard Castle was very scenic with the great view of the old Castle. The next section was through very different scenery after the rugged Pennines, Arable land and big farmhouses with horses and electronic gates were the order of the day now. The 1830 suspension bridge at Whorlton was a welcome break before the final miles to our accommodation at Lucy Cross.

Day three. Lucy Cross to Whitby - 66 miles 2,200 feet of ascent

A good strong tailwind looked like it was going to help us all day today. We sped through the first 15 miles in less than an hour along the Upper Tees river. Large houses and well cared for villages dotted around the fertile arable land. We stopped at a cyclists cafe in Great Aisby but got a harsh welcome "Did you scratch our paintwork with you bikes? "

Captain Cook went to School here before heading to Whitby. That's where we were heading as well.

The North Yorkshire Moors lay in our way and were going to provide a few hills before we could reach the East Coast. The final miles were a real treat. We dodged the heavy showers as we climbed onto the heather clad moors. A couple of times the route swooped down into valleys before climbing up again. We had to stop a couple of times to repair punctures caused by the rough tracks of the off road sections. Climbing up to Aislaby just a few miles from Whitby we still could not see the coast and we turned onto a steep descent on a rough track (much to Johns annoyance). It led onto a smooth tarmac lane but even this had a vicious concrete gutter that could easily shred a tyre.
| | |
| --- | --- |
| Matty gets his feet stuck in the pedals | Puncture number 2 |

The route had one last surprise as it climbed for a final time and then turned onto a superb old railway viaduct that took us across the valley high above the river.

The old railway track spat us out into the crowded streets of Whitby, all hustle and bustle on a busy August Monday. We tracked down a great fish and chips cafe, the Harbour View cafe provided a slap up meal in nice surroundings for just £7.
W2W is a great route - but don't under-estimate that hilly first day! Perhaps it should be called WWWWWWW2W (that what the profile looks like!)
| | |
| --- | --- |
| Whitby | Fish and Chips in Whitby - a must! |
Route profiles
day 1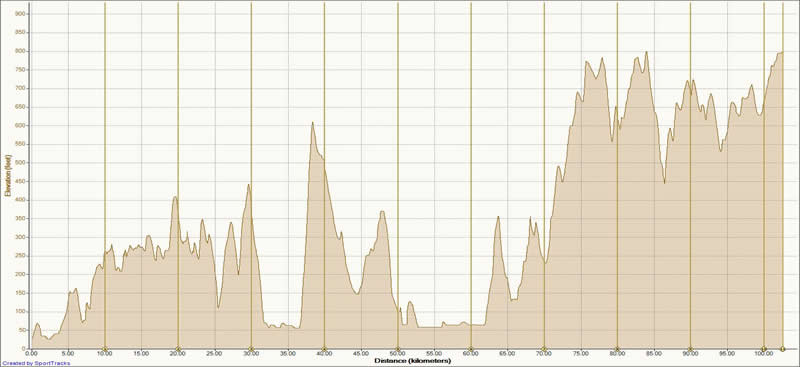 day 2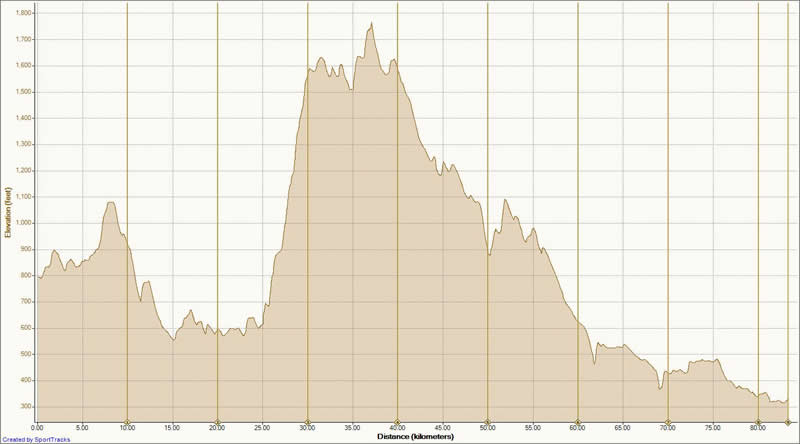 day 3