Our progress will be charted on this page
Day 12 - Don't forget to brake!
Melvich to John O' Groats - 40 miles, 700 feet of ascent
The rain lashed against the windows of Tigh-na-Clash, our tartan carpeted B&B in Melvich. "It's rained for weeks, and if it's not the rain it's the midges" said our not so optimistic hostess, an elderly lady who told us that her grandfather had lived on St Kilda, a barren Island way out beyond the Hebrides. At least we got a lie in and a good breakfast before the inevitable dousing on our ride to John O' Groats.
We seemed to have had a charmed journey in regards to weather as the clouds and rain blew away and as we headed East on the last part of our ride. Caithness was our last county so we stopped for a photo.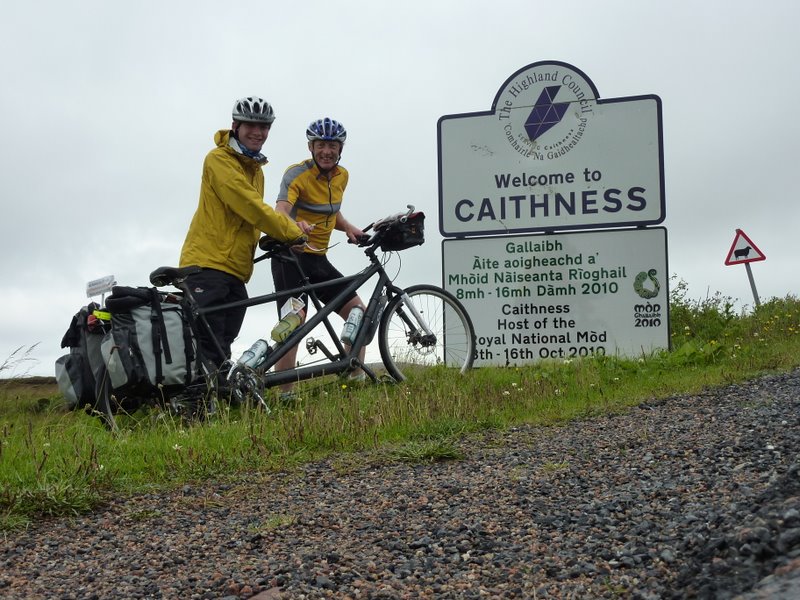 We met a couple of lads who were also finishing today, and shared stories of our End to End experiences.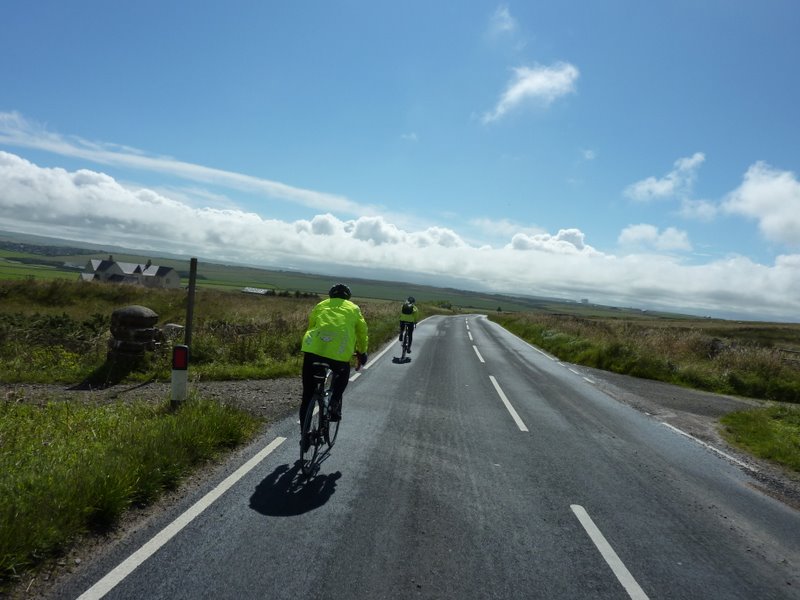 A stiff Northerly breeze made the going slow at times as we traced a line around the bays on Scotlands Northern coast. Just past the village of Reay is Dounreay, with its old nuclear reactor still a prominent landmark. Apparently decommissioning of Dounreay is planned to bring the site to an interim care and surveillance state by 2036, and as a brownfield site by 2336, at a total cost of £2.9 billion. It is still the largest employer in the area. But a nearby windfarm perhaps indicates the future of energy producion in Scotland.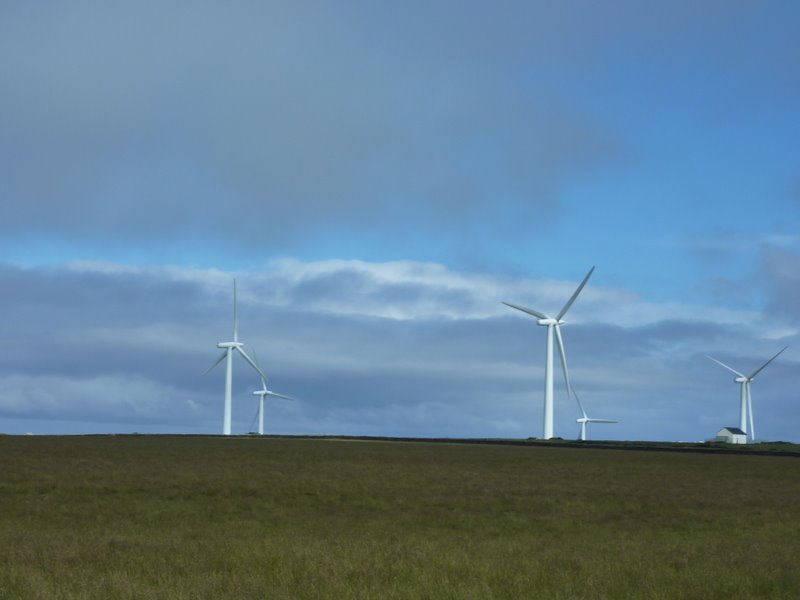 We didn't stop at Thurso as we only had 20 miles to do from here and were keen to carry on whilst the weather was good. The views out to Hoy and the Orkneys were superb. The colours seemed incredibly vivid.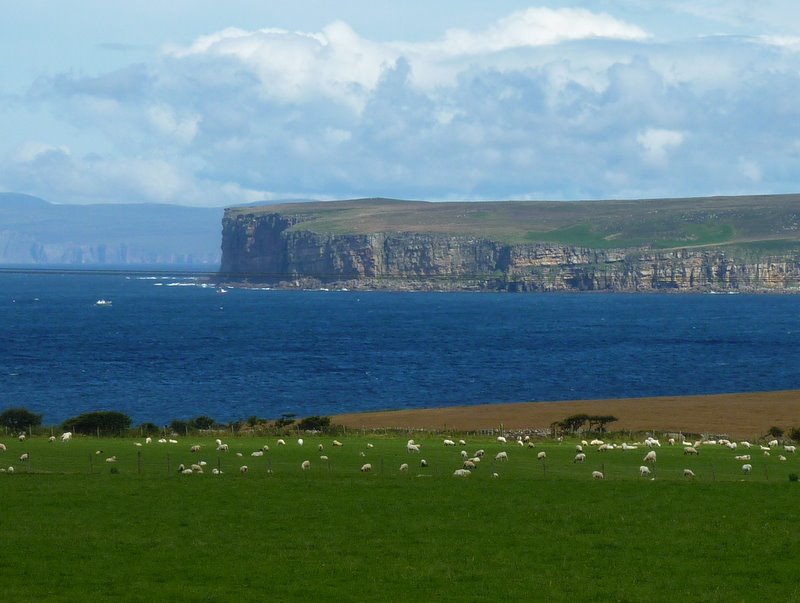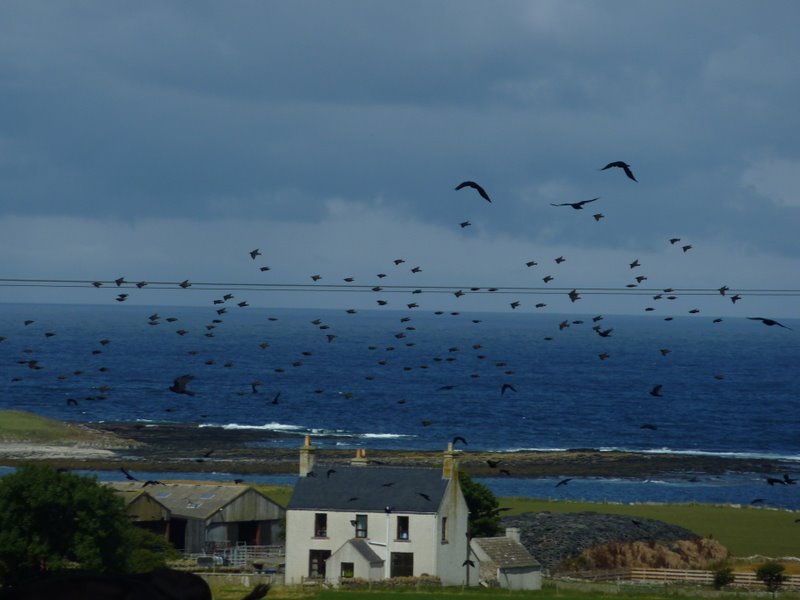 Despite having cycled well over a thousand miles on our journey, the last 10 miles felt a long way. Our legs were tired from the gruelling last 5 days in which we had covered 500 hilly miles, but the sun was shining out of a clear blue sky and we watched our shadow flicker on the road. Tired legs didn't matter now.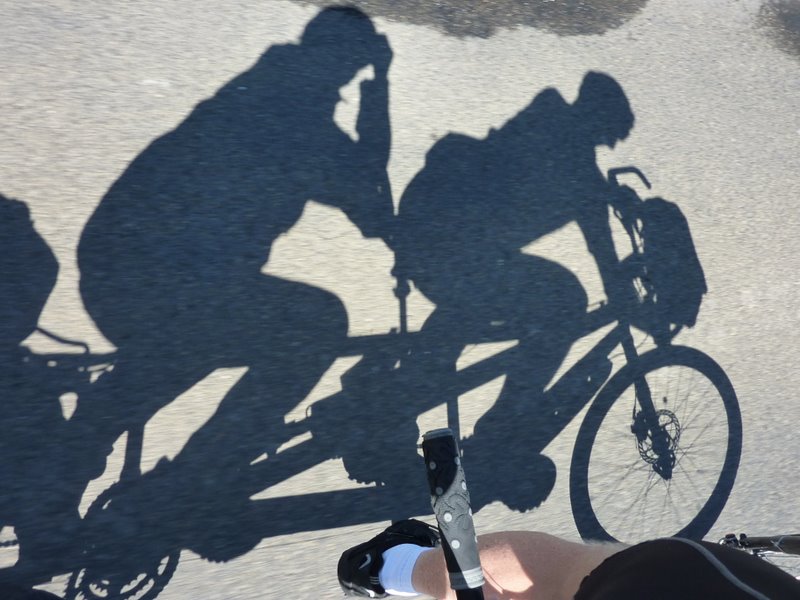 John O' Groats took us by surprise, we nearly over shot it! It's not really at the farthest point from Lands End, but down a side road next to a small harbour. (The town and harbour takes its name from Jan de Groot, a Dutchman who obtained a grant for the ferry from the Scottish mainland to Orkney, recently acquired from Norway, from King James IV in 1496). The hotel is currently closed and in a sad state of repair.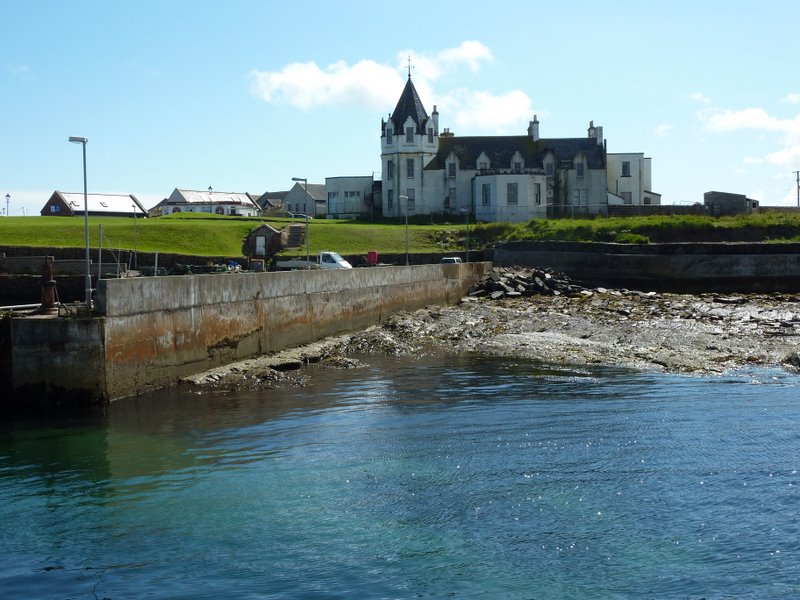 We went to the famous signpost and got a picture of ourselves at the end of our amazing journey. So much had happened along the way, it was hard to believe it had all happened in just 12 days.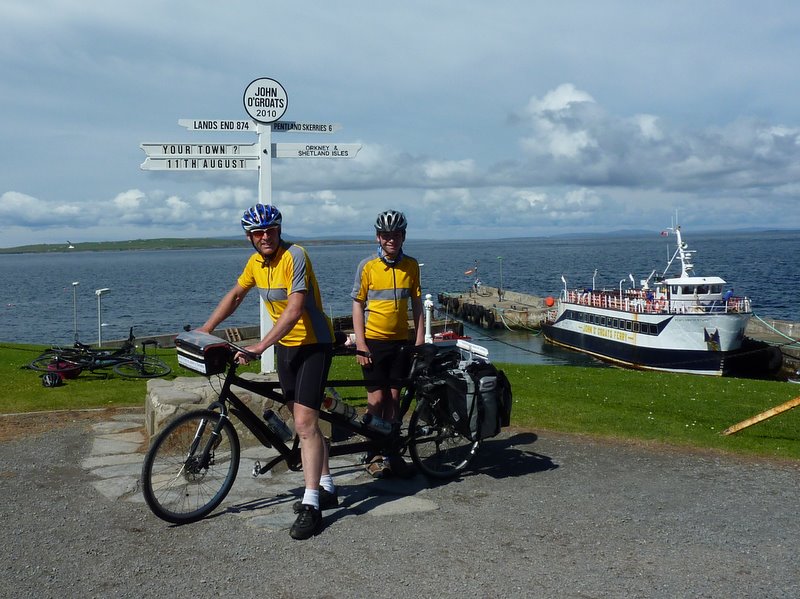 One final picture had to be taken. A friend had said "Don't forget to brake at John O' Groats" so here is the picture to prove that we did - just!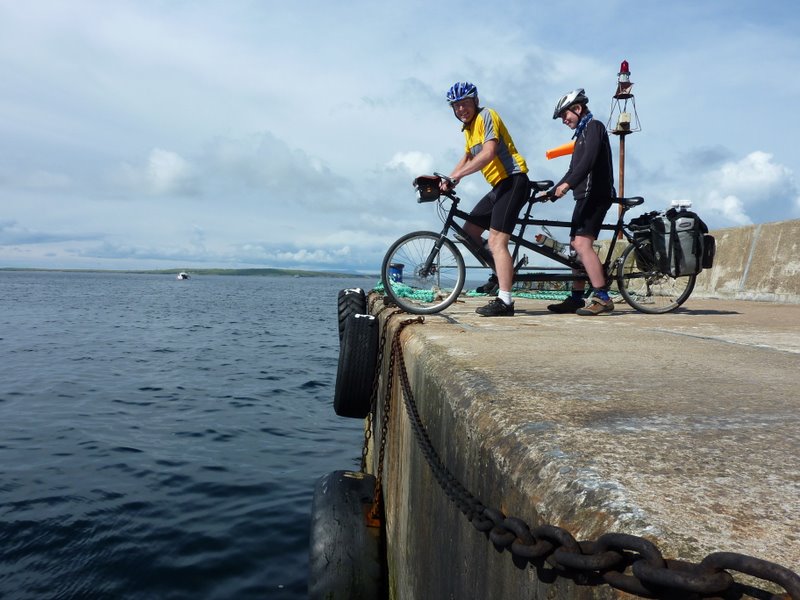 There were many other cyclists finishing or starting their journeys, as well as many "ordinary" tourists who we thought would not have such a special visit here as there is little to see, just a few average cafes and souvenir shops. We now had to do some more cycling though, 15 miles to Wick where we would catch a train the next day. Heading south we met the LEJOG rush hour it seemed, as many other people were finishing there journeys by the standard main road route. We spotted the "Tandemistas" (that's a new word I've just invented) from the previous day and even in the 24 hours or so since we saw them we had lots of tales to swap.
And so time to go back home, time to pack the tandem back into it's bag, time to stop being an End to End'er. We live on a small island, but we felt like we had had a big journey.
Don't forget to sponsor us if you haven't already! We will be adding video clips to the site so sign up for updates and we will email you when these go online. We have some great clips to show you. We hope to raise more money for Action Aid by giving one hour multimedia talks, so if you are interested please let us know.
Day 11 - Don't pay the ferryman, go with the flow
Kirkhill to Melvich - 115 miles, 2,500 feet of ascent.
After a 100 mile ride the previous day the schedule for today was going to be tough. Fortunately our generous hosts Dan and Susie fed us well and by 7.50 we were on our way from Kirkhill heading to the Black Isle to start with. Gentle gradients suit the tandem, and we cruised along through the lush scenery, crossing busy commuter roads until the huge rigs being worked on out in the Cromaty Firth came into view.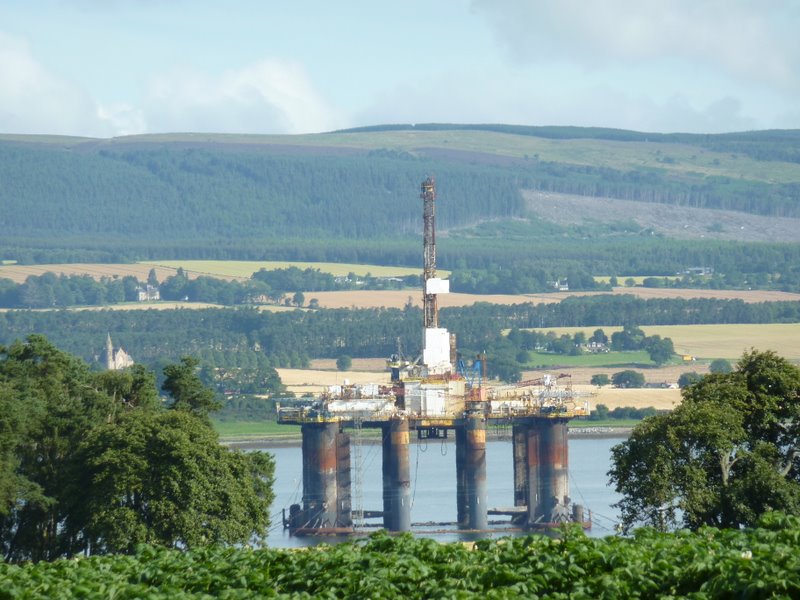 Taking this route meant we missed the the busy main road, and got to take another ferry journey from Cromarty to Nigg. We got superb views over the Cromaty Firth to start with then descending to the coast line we were absorbed by the variety of bird life, Matty got a great shot of a Heron taking off from the shore.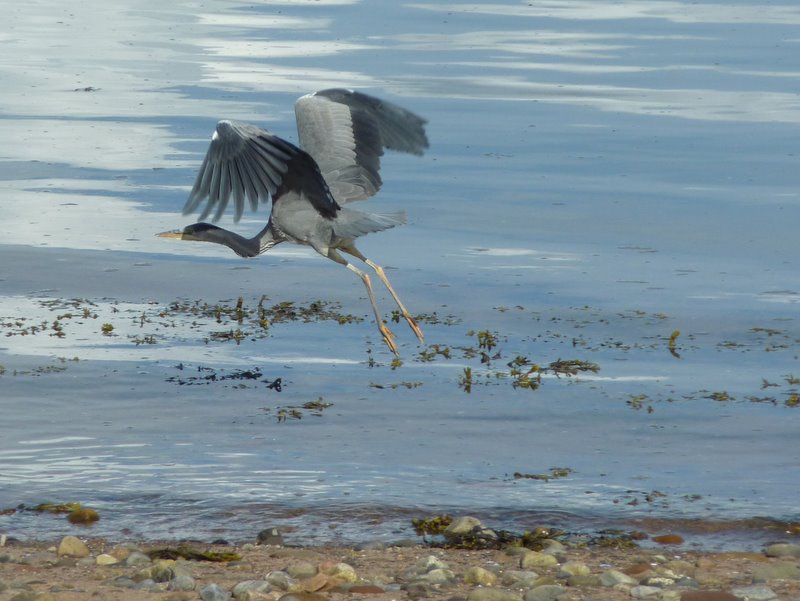 Arriving at Cromarty we headed straight for the pier and asked a guy where the ferry was, he was looking for it too so didn't know. The second guy we asked, said "Ferry, there has been no ferry since February" . We had checked the ferry web site the day before and there was no mention of this! Our hearts sank, this meant a 38 mile ride around the Firth just to get back on our route, there was no chance we could do that. I asked another worker on the the pier if we could get a lift from someone else. He said "No - everyone is heading out to work". I spotted a guy in t-shirt and sunglasses walking down to a motor launch with another couple of people in it, he looked a better bet. So I shouted over and explained our situation, but they said they couldn't get into land at the other side. Then they chatted briefly and said "Bring your bike down". Within minutes we were speeding over the Firth! We realised how lucky we were as they said other people had been turning up as well expecting the ferry to be running. They were off Dolphin spotting in the perfect weather, but woudlk try and get us across to the other side first.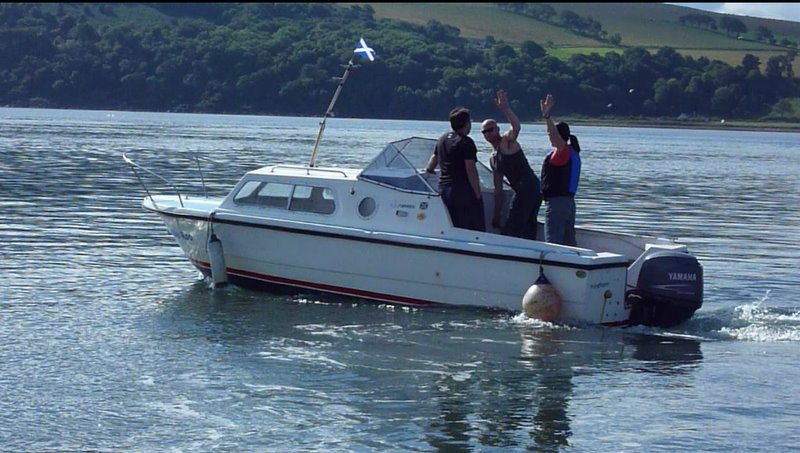 The calm sea condtions meant they could get into the concrete jetty with no risk to their boat. We'd made it!"
Breathing a sigh of relief at our lucky escape we met further people at the other side looking for the ferry, a sign said "Ferry closed until end of July". A bit out of date. We pedalled hard for another hour or so and went past the first sign mentioning John O Groats. We weren't going direct however, so we could add another 50 miles at least onto that figure.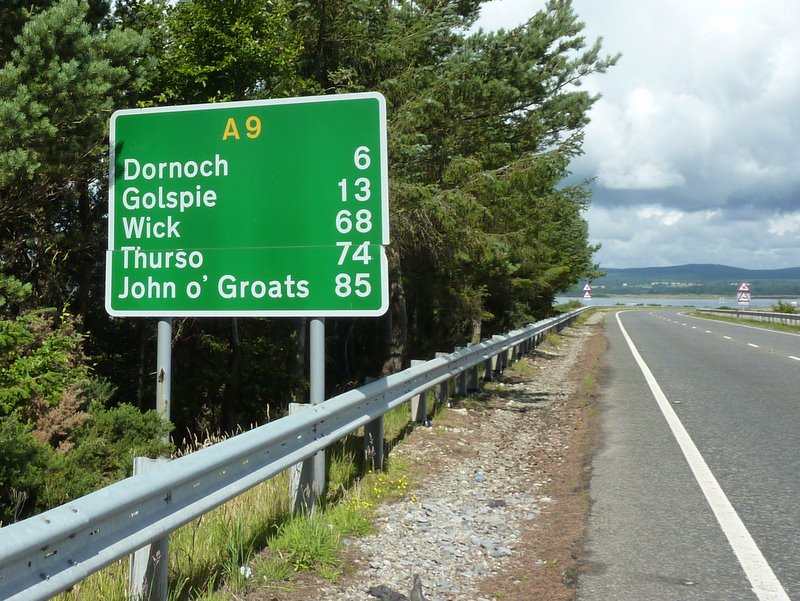 We saw quite a few cyclists on this section of the road to Helmsdale. Just about all of them doing the End to End. A couple of ladies in pink cycle tops went the other way. We shouted over "Hello team pink" - they shouted back "Hello team yellow". Team pink had a long way to go yet!
On a section of smooth tarmac we noticed the rear wheel was bumping a bit. Closer inspection revealed the tyre was bulging, caused by what looked to be a tear developing on once side. Having a tyre explode would not be good news. At Golspie, just a few miles further on we bought a spare just in case.
Two young lads with their shirts off appeared in front of us, headeing North liek us. Brown skinned from around a 1000 miles cycling and spines sticking out indicating they were not carrying much fat now, they had loud techno music blaring out and one of them was waving and pointing his hands in time to the beat. "Tandem" one of them said "I wanted to do this ride on one of them".
Soon after we spied a couple resting at a garage, next to their tandem. We pulled in to compare notes. We may meet them again tomorrow it seems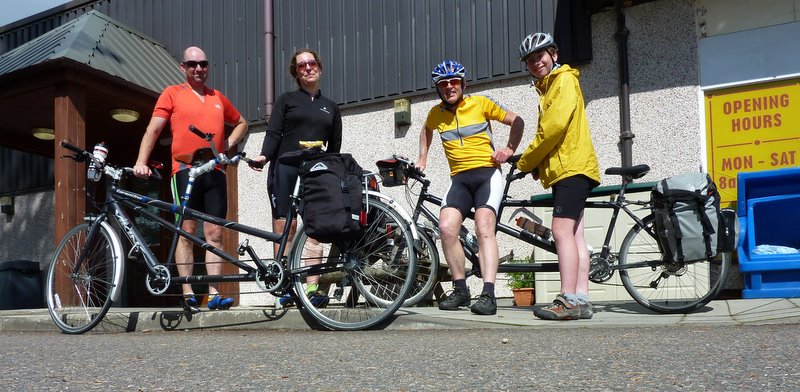 We thought a weather warning sign a bit odd, as we cycled past bathed in sunlight with clear views to the rocky peaks and out to sea.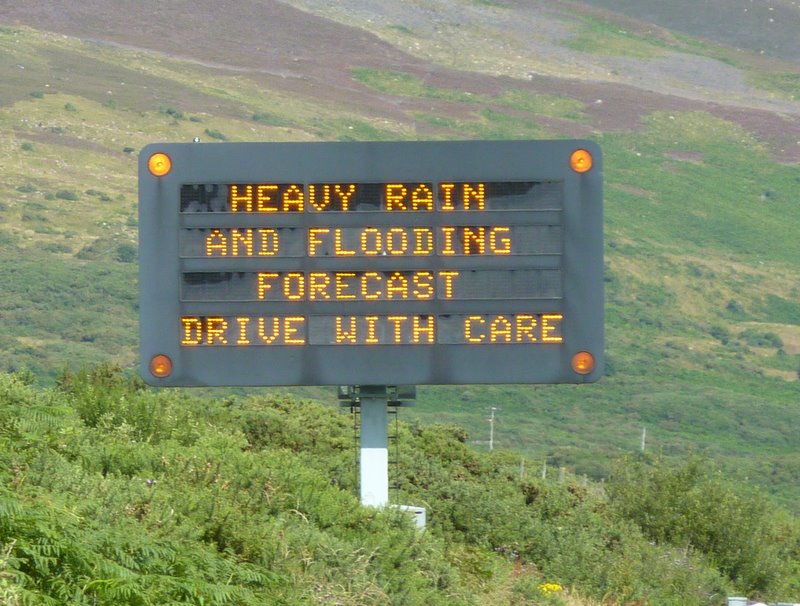 After 6 hours almost continuous pedalling (120 kms, 75 miles) we reached Helmsdale where we had decided to have a good break and 'refuel'. An award winning chip shop supplied us with huge portions of fish and haggis and chips, just what we needed. We sat in the sun by the river Helmsdale knowing that we could take the remaining 40 miles more steadily and still reach Melvich by 7pm.
Getting of the main road was good, we also had a slight tailwind for a while now and climbed very gradually up the valley, passing numerous fishermen. We did notice darkening skies ahead and hoped that we would skirt any rainshowers that might develop.
There had obviously been some serious heavy rain around, the road sign was right afterall. Some of the small rivers were spewing out huge quantities of brown muddy water, even though we were still enjoying fine weather.
We were entering 'Flow' Country. This is a landscape that has not changed since the last ice age. Large areas of small streams, pools and boggy vegetation. The narrow singletrack road was the only route across. Walking would have been misery, as soon as we stopped we were covered in a thick layer of midges. A good incentive to keep cycling. Not a good place to get a puncture we thought!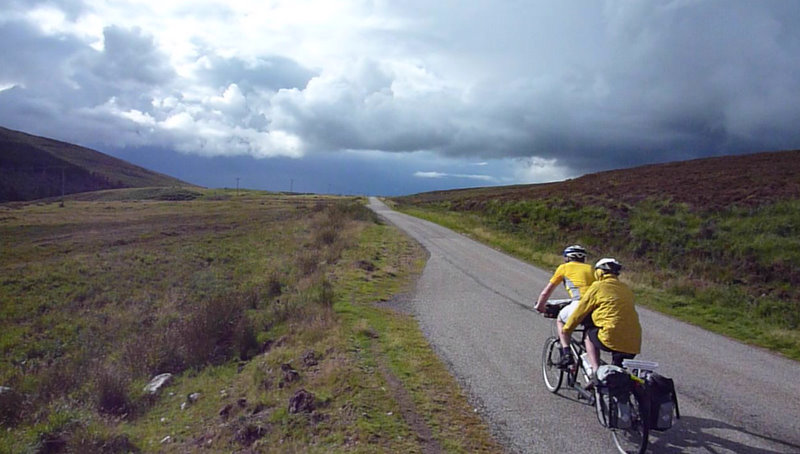 The bright sunlight and thunder storm cells gave us a great display. All around us the sky was changing, would we escape a deluge?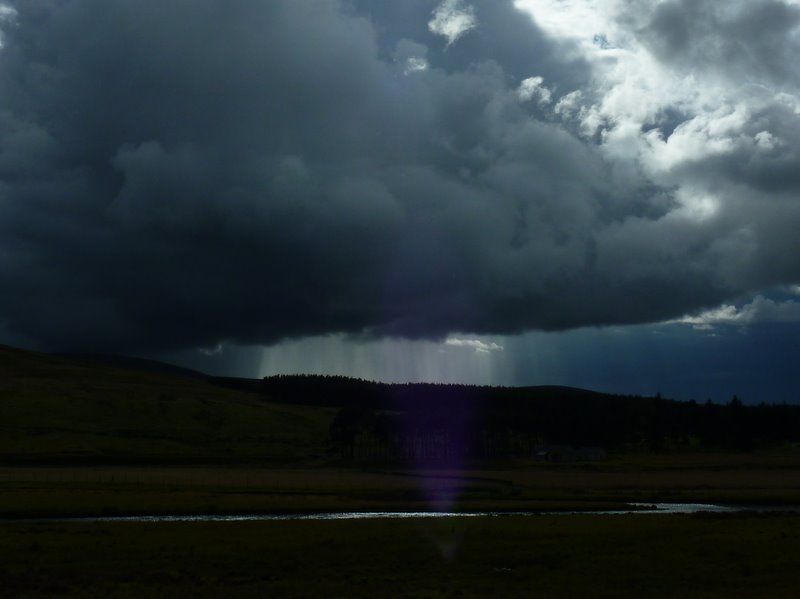 Some of the wildlife clearly liked the weather, a toad hopped out across the road and Matty got a few snaps before the midges forced us to continue.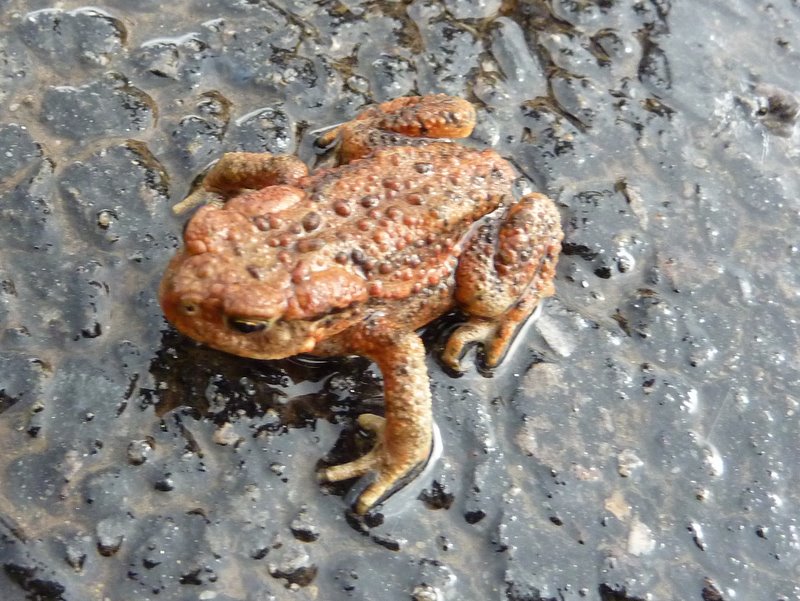 Suddenly in front of us a funnel of cloud developed, we were watching a little tornado! Matty was worried that it might be dangerous, the wind certainly did pick up as we cycled past the cloud that produced this, but it soon faded and all we had to endure was a brief spell of moderate rain.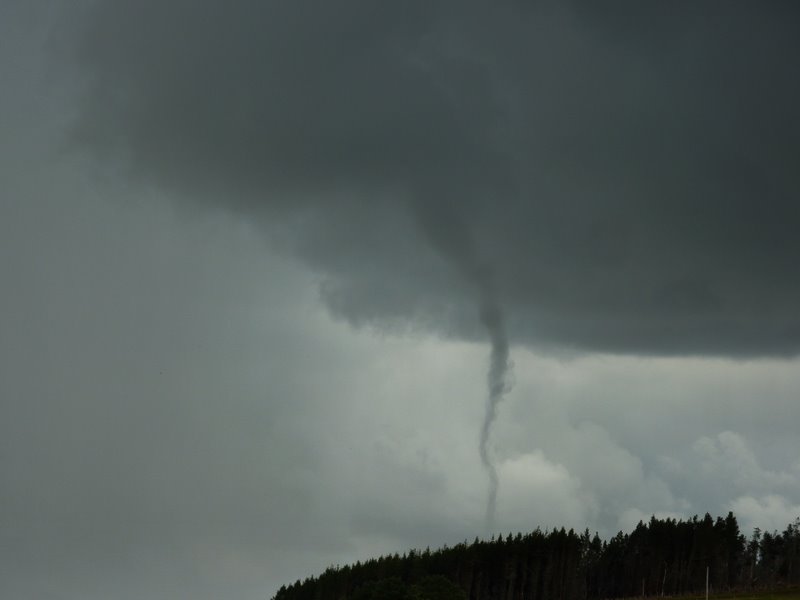 The long gradual descent to Melvich was a pleasant finish to an amazing day of experiences. Tomorrow we just had 40 miles along the North Coast of Scotland to finish our journey. Having ridden 500 miles in the last 5 days we had earned our tea and looked forward to a more leisurely start the next day, our last day of our amazing adventure.
Day 10 - Watch your sprocket in Drumnadrochit
Barcaldine to Kirkhill - 99 miles - 3,000 feet of ascent
The prospects for anything other than a very wet day were gloomy. It was even too wet for the midges as we left John and Val and continued along the coast road toward Fort William.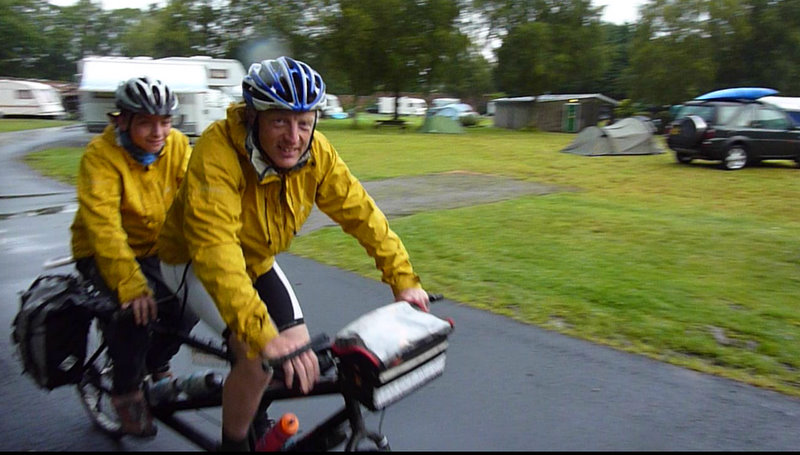 The rain faded away and we didn't need our waterproofs after a while. Many sections of old railway line have recently been converted to cycletrack, right alongside the sea as well.
Glencoe came into view, shrouded in mist as usual, and Appin castle looked great.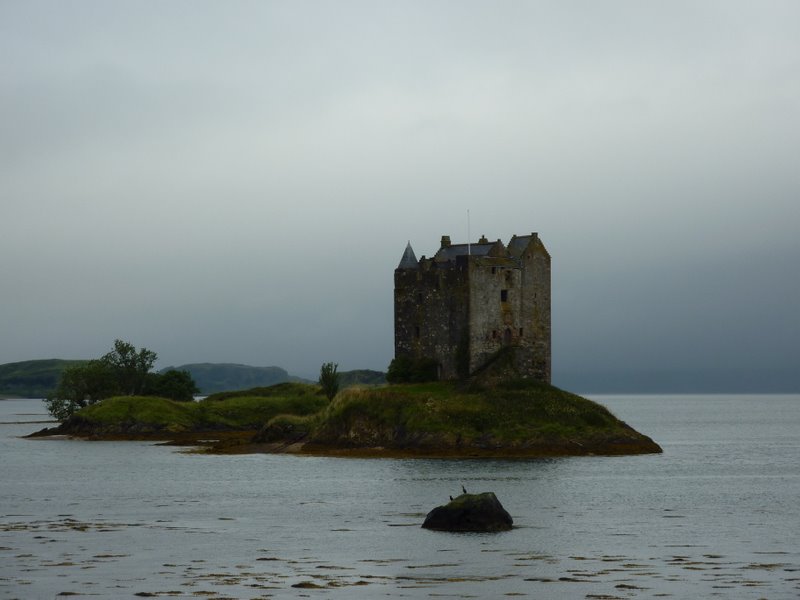 Stopping at Onich after about 20 miles for a bacon sandwich the heavens opened and we sat inside for 30 minutes watching the weather deteriorate. This did not look good;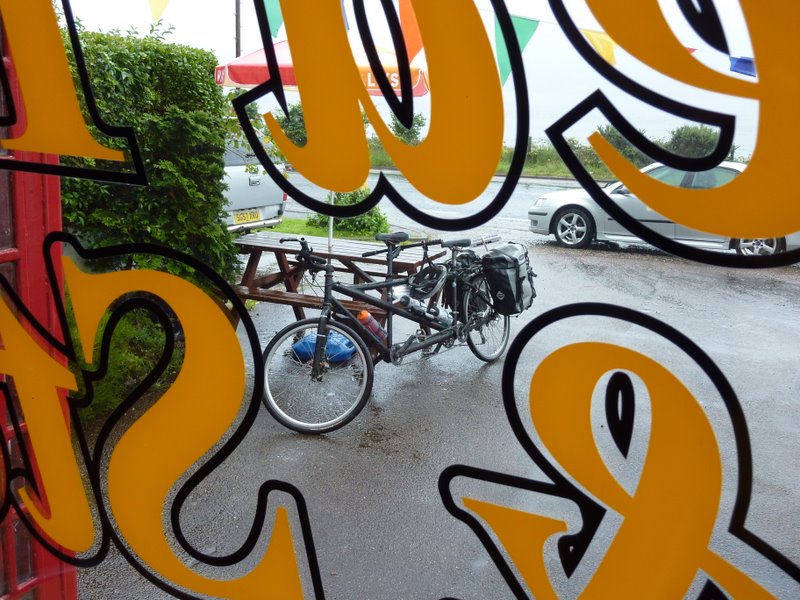 We decided to head off by 11 whatever the rain was doing. Luck was with us and it stopped again by the time we reached the Corran Ferry. We chose the minor road up the West side of Loche Linhe (via a free ferry crossing at Corran), in order to avoid the busy Fort Willian Road. We had an hour to get to Camusnagaul (11 miles) where we would get a ferry over to Fort William. If we didn't get this next ferry we would be left with an extra 25 miles riding around Loch Eil. We did arrive in plenty of time, but by 12.30 no sign of any ferry, and no one else was waiting for it either, this was worrying. However a couple of minutes later the ferry appeared around the headland and soon we were heading over the tidal races in the little tub like ferry. The crew even gave us free passage as we were on a fund raising ride.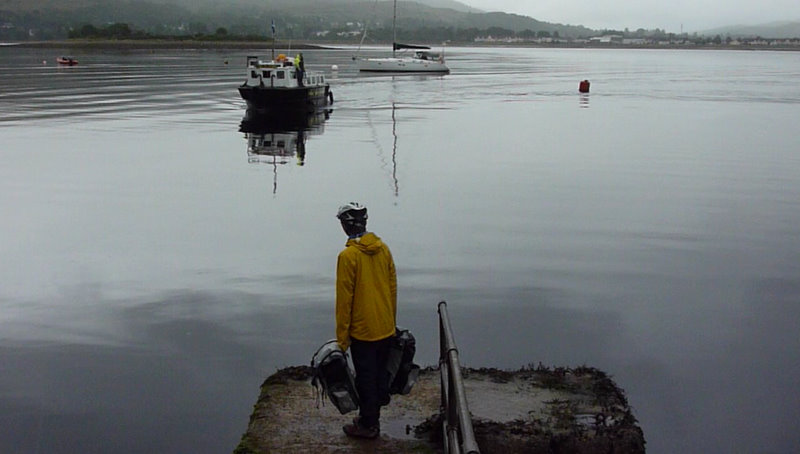 The tandem was strapped loosely on the side of the ferry as you can see below.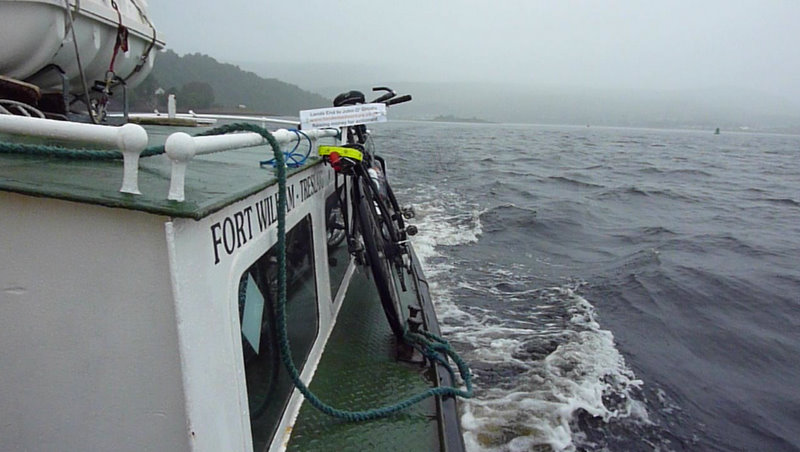 I asked the crew about the tidal races, and other aspects of the ferry. Matty was intrigued by the basic layout of the helm, the captain just raised his finger to point at a small sign above him.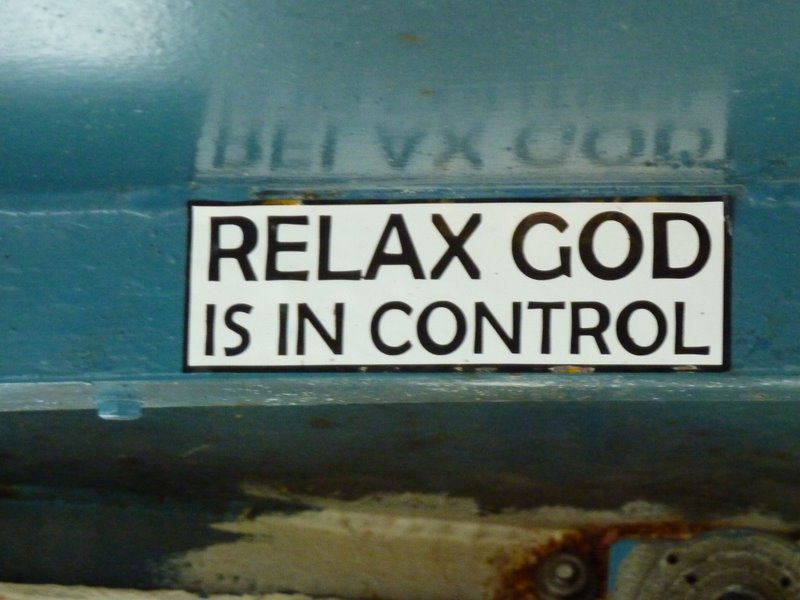 Back on dry land we were soon navigating our way through the cyclepaths leading to Neptunes Staircase, a series of lochs at the Southern end of the Caledonian Canal. The heavy overnight rain had made the going wet here and we were soon sprayed with mud and grit.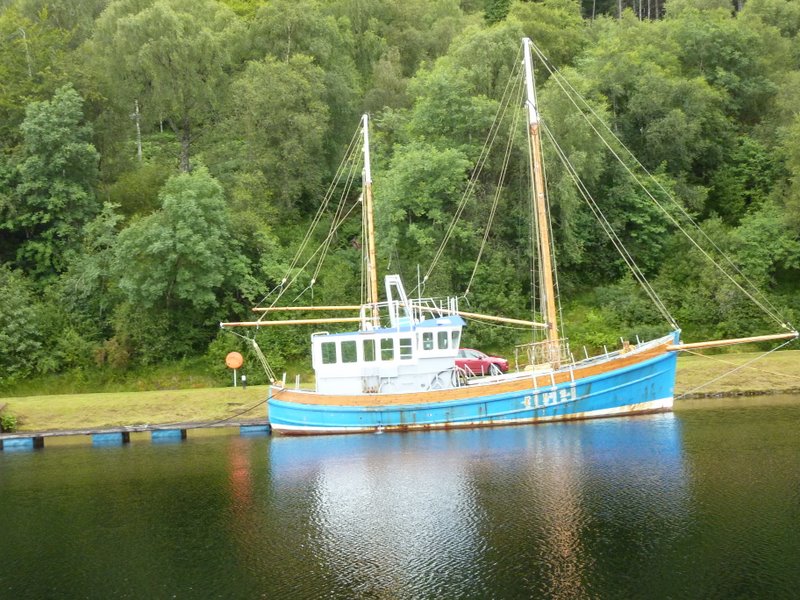 The Great Glen is big (it is well named) and it took us 4 hours of hard cycling to reach Drumnadrochit on a mixture of rough towpaths, forest tracks, narrow hilly lanes and busy main roads. This made it a tiring afternoon. Leaving the hordes of Nessie hunters at Drumnadrochit we hit the big climb leading to the Beauly Firth. This is steady 1 in 5 for a couple of kilometres, but at least that left us with a great run down in early evening sunshine to our friends Dan and Susie at Kirkhill, where we were well fed and Watered.
Day 9 - The Awesome Rollercoaster
Saltcoast to Barcaldine - 92 miles - 5,000 feet of ascent
A relaxed start in our palacial caravan before a short ride to the Arran ferry at Ardrossan and then a second breakfast on the boat.
Lots of cyclist on the ferry including a old bow legged Scottish rider with a wool cycling jersey that almost came down to his kees.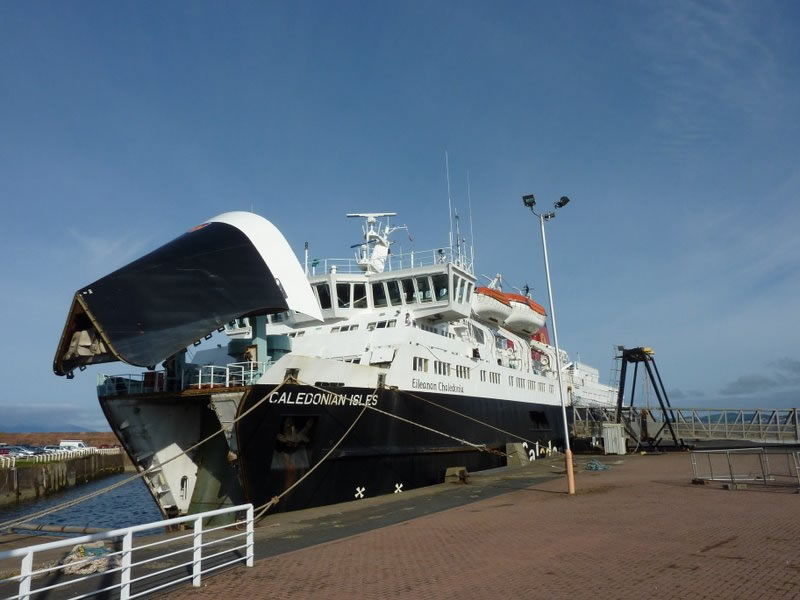 Lots of cyclists on the ship, most going to enjoy a full circuit of the island I think.
The ride from Broddick to Lochranza was excellent. A scenic coastal stretch before a stiff climb over to Glen Sannox, with great views of Goat Fell and it rocky ridges.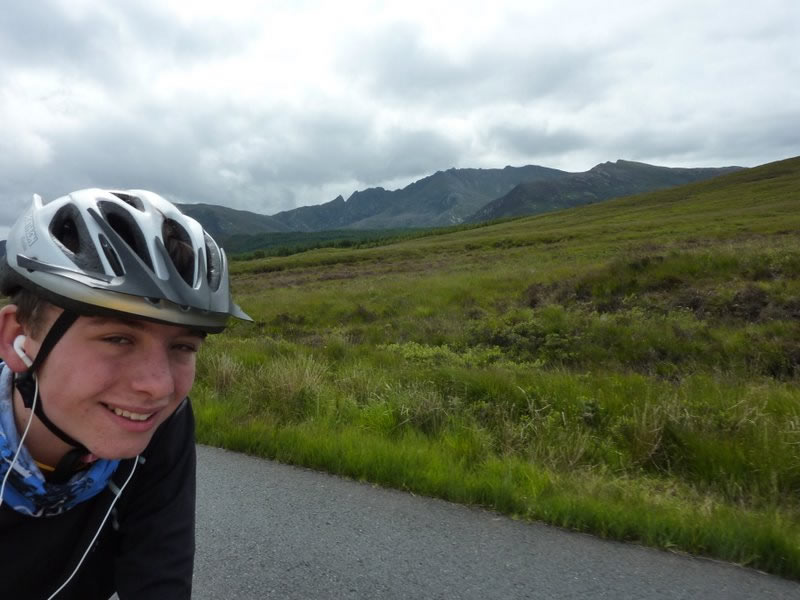 We enjoyed a leisurely snack at the cafe next to the ferry to Claonaig, savouring the fine weather and great scenery , but knowing that we would pay for this later as we still had 70 hilly miles to cover to Barcaldine. Yet another kind person came up and sponsored us £10, and was keen to we checked out some of the ancient cairns and standing stones along our route. We had great views from the small car ferry to Claonaig and set off cycling on the days main leg at around 2pm, rather late.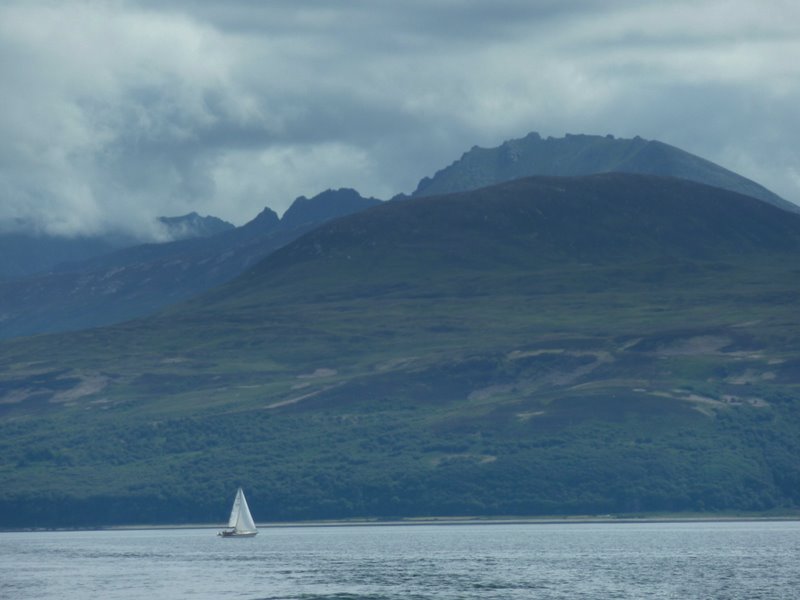 Another long climb after leaving the ferry before before a rapid descent to the Oban road, where John had a blow out, fortunately in his back tyre, and not on one of the fast descents.
A fast 40kms to Kilmartin and a quick tea stop and then on the the Loch Awe road. This is a good alternative to the coastal road but is hilly. This really is a rollercoaster road, the amazing descents on the pretty much traffic free roads ample reward for the hard work getting up them. We hit what is likely to be the trips fastest speed at 84 kmh (about 52 mph) on a long descent that steepened even more in one final thrilling dip, then straight up another hill until our momentum was gone and we were e back in bottom gear crawling up the next hill.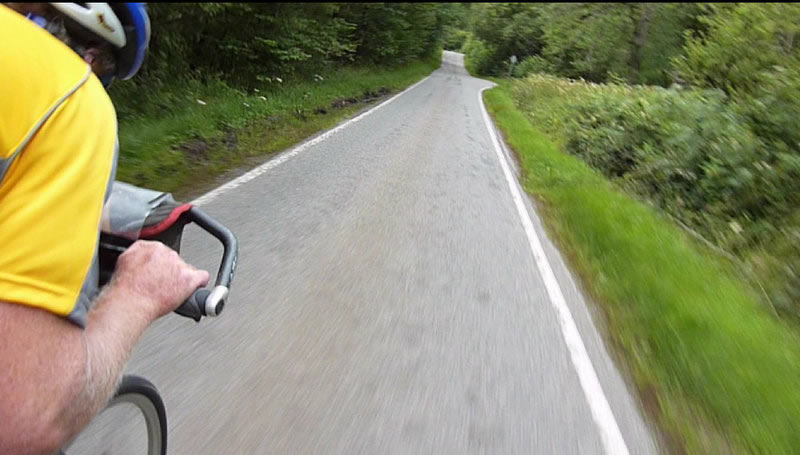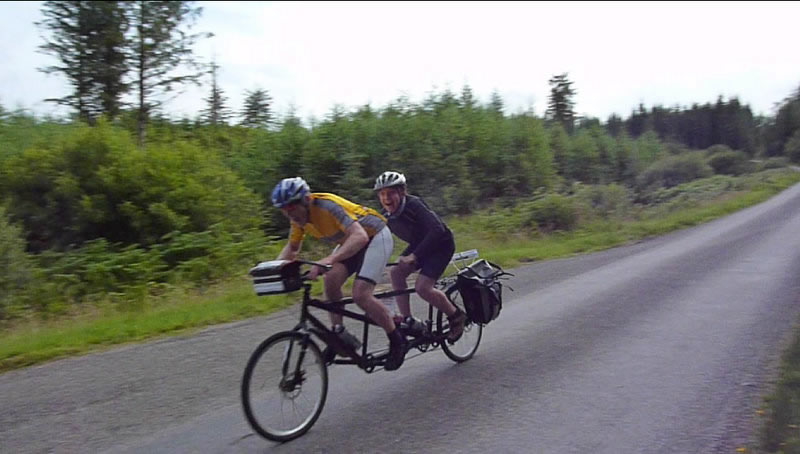 We continually snacked on energy bars to keep oursleves going and aware of our deadline never stopped for more than a few minutes, our average speed despite the hills 21.5kmh, about 14mph.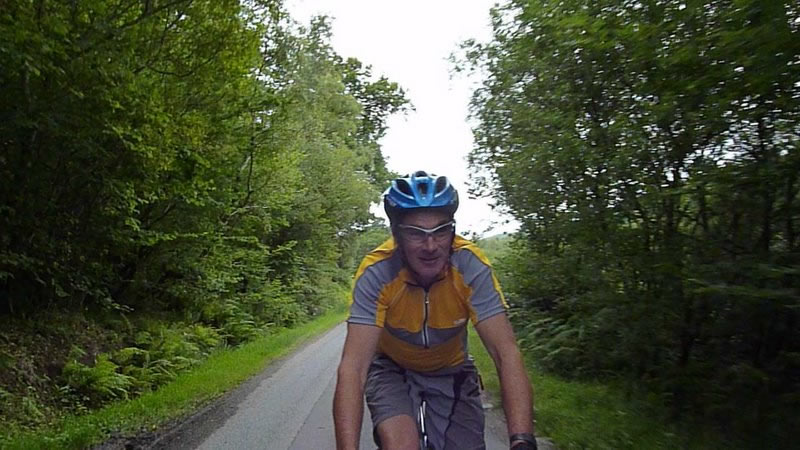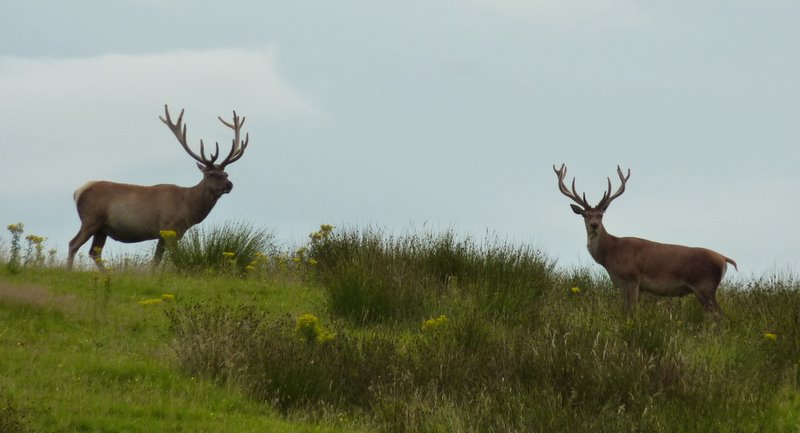 Eventually reaching the main coast road which was quiet as it was Sunday evening. Val caught us up in the van after her walk up Goat fell, and made us all happy with some milk drinks, our favourite.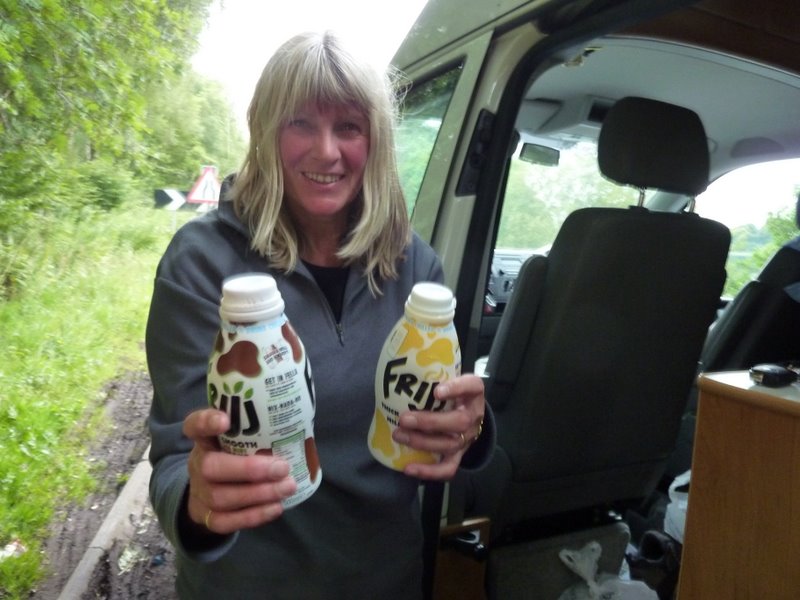 Not far to go now and John set the pace for the last 10 miles which we sped through in 30 minutes. We overtook a group of youths who had seen us coming and were keen to outsprint us. They had no chance as Matty and myself were riding a few inches behind John who whistled past them at about 25mph. "Bloody Hell" we heard one of them say as their voices faded quckly behind us. We arrived at Barcaldine at 8.30pm. Just time for a shower, some food in the van and then bed!
Day 8 - A day of good fortune
Annan to Salcoats - 107 miles, 2,600 feet of ascent
Waking to rain falling on the tent the omens for todays ride did not seem good. I also had to empty one of my shoes which was full of rainwater. However the rain faded and heading through Annan a guy on a recumbent bicycle pulled out just in front of us. On his way also from Lands End to John O Groats he said he had called in on one funeral (army friend at Wooten Basset) and two weddings en route.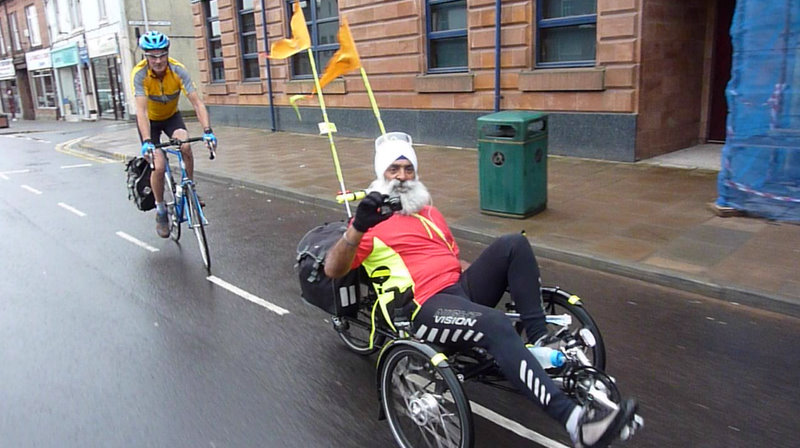 He was certainly a colourful character and we chatted briefly before heading in different directions. We headed around quiet lanes and cycle paths, taking in Caerlaverock Castle, the WIldlife and Wetlands Trust, the Saving Bank Museum and some old small harbours before hitting Dumfries in time for a second breakfast.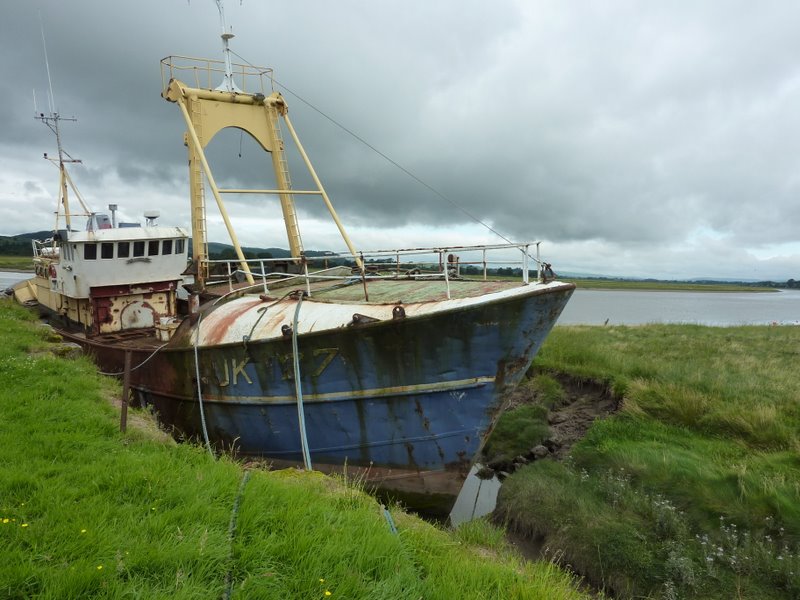 Dumfries has put a lot of effort into attracting and catering for cyclists, with superb bridges over the river and even a long bridge over a couple of busy roads. Cafes and restaurants are certainly good value here, with a cooked breakfast coming in at £2.90 in Dumfries, an old lady in the cafe pushed £5 into our hands towards our fund raising.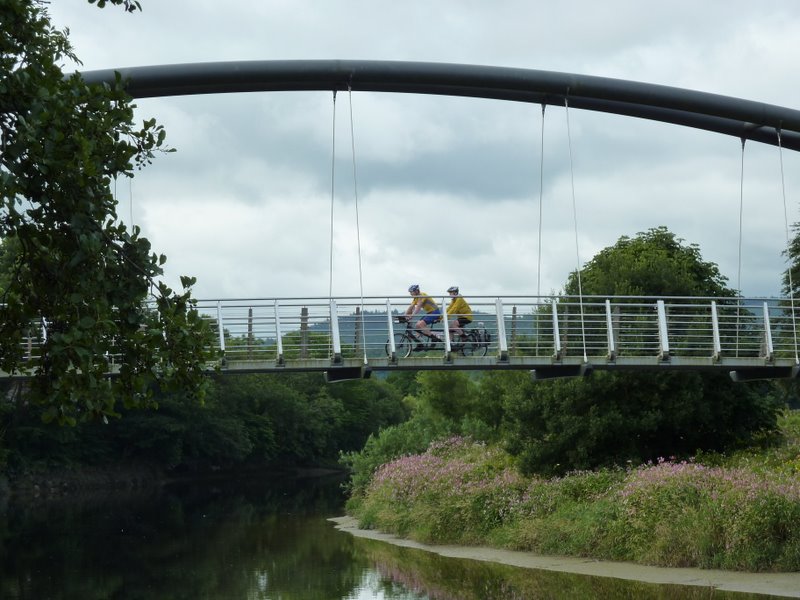 With improving weather we headed inland now in a Northwesterly direction. We did intend to pass through Kier Mill where Kirkpatrick Macmillan invetend the pedal cycle in 1840, but I had not set up the GPS correctly and we stayed on the A76 most of the way to Sanquar. Which in hindsite was probably a good thing as we ended up doing a huge day even without that detour. Sanquar seems to be a place people just pass through, but the locals are very friendly and again the cafes great value. Although you have to ask to find them as they don't seem to have signs telling you where they are!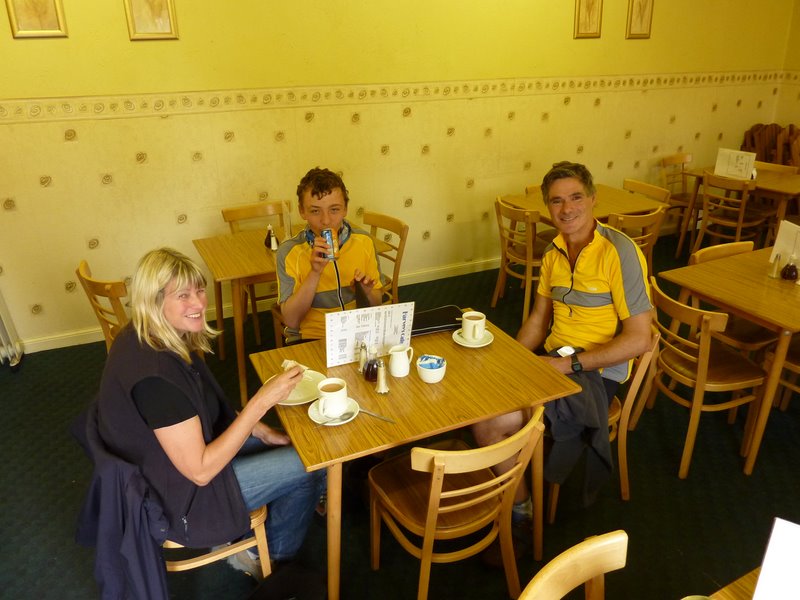 A head windwas now picking up, blowing from the North West, so we had to work hard past New Cumnock, Stair and eventually to brief rest at Tarbolton, outside Robert Burns "Batchelor Club". The local youths kicked Irn Bru cans down the street and the other hobby seemed to be spitting, but our faith was restored by a chap calling in at the shop opposite who again handed us some sponsor money.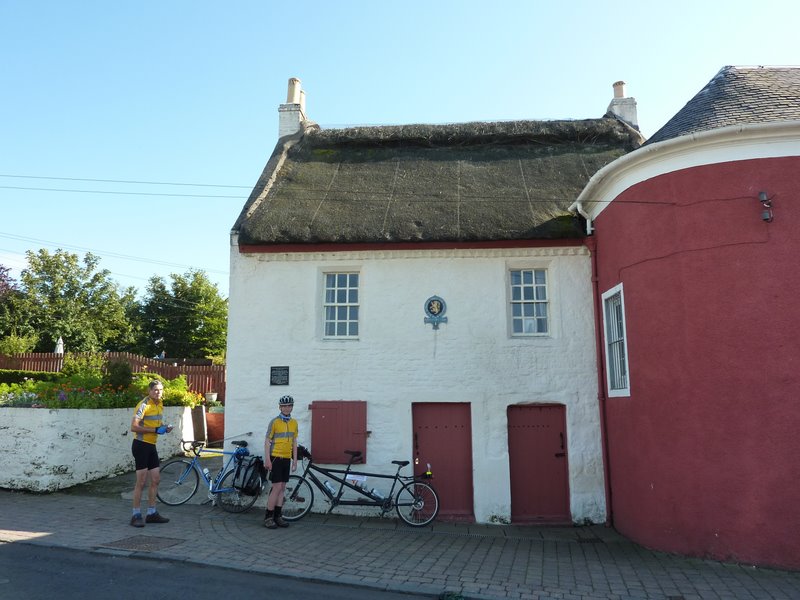 It seemed to take a long time to get to the coast and the Isle of Arran hovered tantalisingly on the horizon. We passed through Irvine with its chemical factories and then back onto a cycle route for the last few miles, our first crash of the trip occured when we hit some mud on some tight bends on the cycle path, but no serious damage was done to the bike or us. Eventually we hit the coast near Saltcoats where we were to meet up with Val who had organised a camp site. We overshot by a mile and back-tracking eventually located the Van parked next to a large static caravan, but Val was nowhere to be seen. Then out she popped from the caravan. Not only had we got a free nights camping, but we had been upgraded to a caravan! A hot shower and a delivered to the door pizza later we felt much better. It had been a long day but fortune was with us. John had kept us company, and without John and Val in support we would have probably been camping in a windy corner somewhere.
Arran now looms large over the sea, and we know we have another big day ahead of us tomorrow.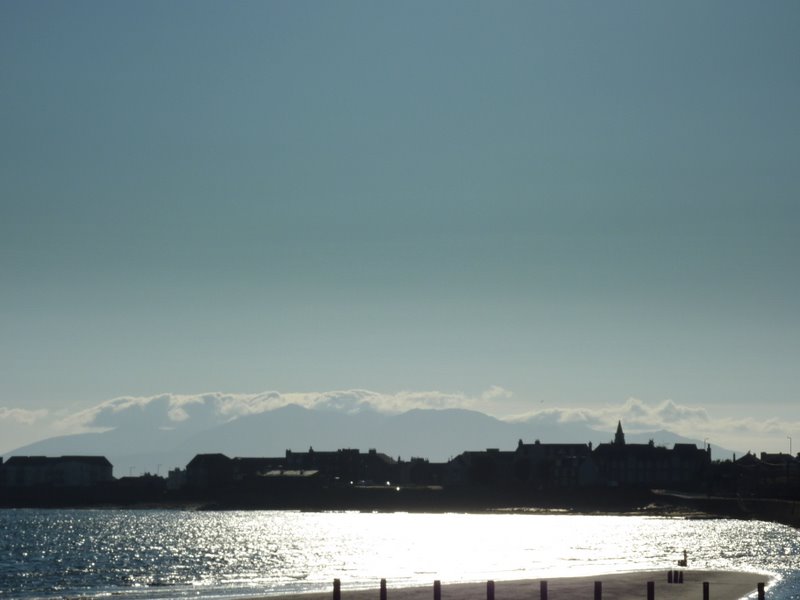 Day 7 - A change of country
Lancaster to Annan - 90 miles, 3,500 feet
After a hectic couple of days getting the bike cleaned and repaired, catching up with work and planning the second half of the journey we headed of North again, being back on the bike felt good. We had Alistair for company as far as the End to End half way point just north of Kendal, which brightened up the dismal weather for us. At Holme we called in at my parents for an early cup of tea and some excellent cake, we even had some road side support cheering us on which was great and much appeciated.
The rain really started heading towards Kendal and the climb up to Shap summit was very wet. The site of the old Jungle Cafe marks the half way of the standard End to End route. We stopped for a while to eat more cake.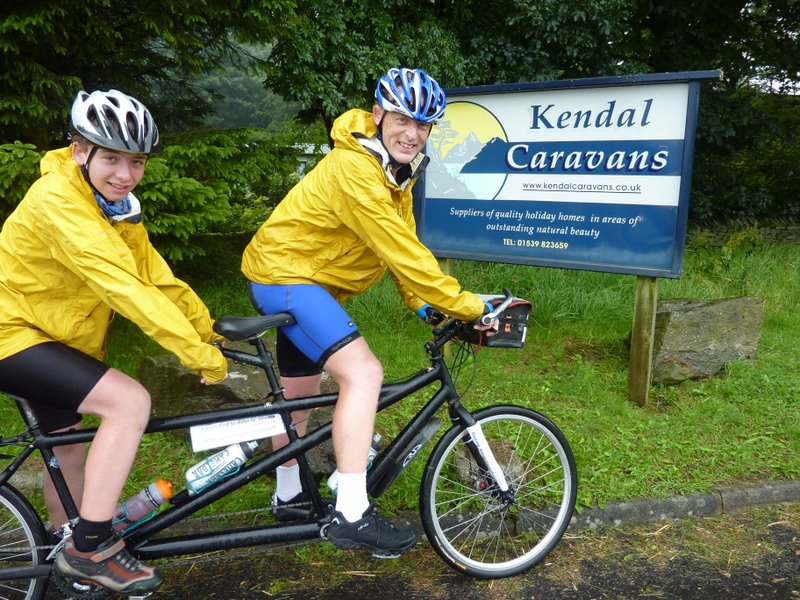 By the time we reached Shap summit we were pretty soaked, but as we dropped down the other side towards Shap village the rain eased and racing along with a brisk tailwind descending slowly towards Penrith our spirits lifted.
Matty tucked into a bargain portion of fish and chips in a greasy spoon cafe, before further wind assisted progress to Carlisle, doing 100 kms in well under 5 hours.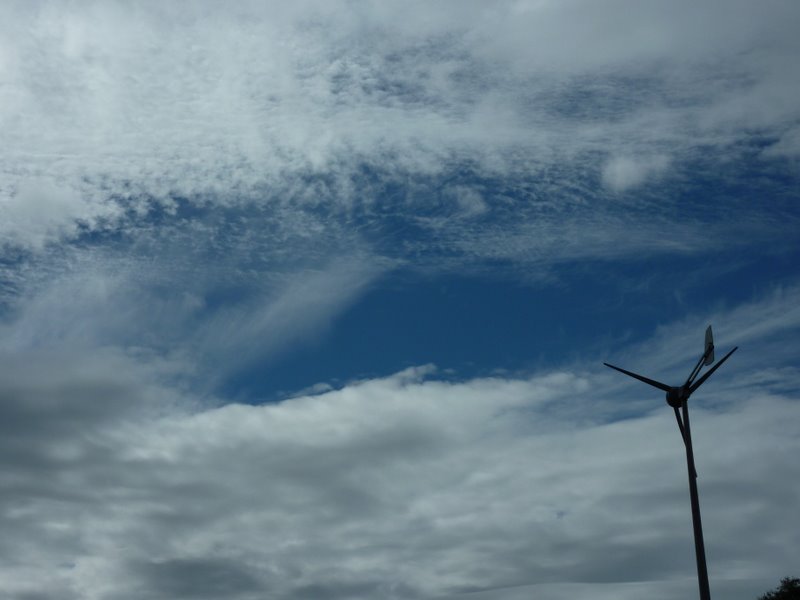 Through Durdar (Matty loves that name) and Carlisle we had some blue sky again and started to dry out properly. North of Carlisle we cut around the edge of a huge timber yard and railway sidings, following the signs for Gretna.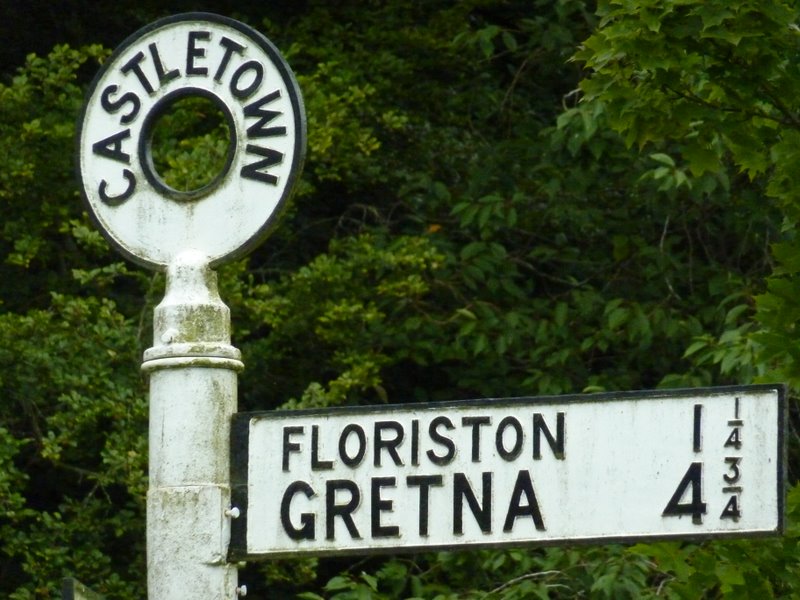 Bagpipes, weddings, people have a very stereotyped view of palces like Gretna. But as we took a photo at the Scottish border a wedding party burst out of a nearby hotel to the skirl of the pipes,
Gretna Fish and Chips are excellent, we shared a portion on a street were the gutters were full of confetti. Now we were heading West towards Annan and by 6pm we had made the days ride without too much effort. We must be getting stronger. We met John and Val at the campsite, they had agreed to join us for a couple of days and carry some of our luggage.
Annan folk seem very friendly, the campsite next to the football ground is small and the lady charged us a nominal amount as we are doing a charity ride. After an excellent meal in an Annan hotel we savoured briefly the friday night action on Annan high street. Some youth sped by in a car, then a screech of brakes and shouted out the window in a broad Scottish accent "What dae ye think of those apples then?" What that meant I don't know, but it was said in good humour.
We noticed on the bar menu that the Scots do eat healthy veg after all. Take your crispy fresh veg, and deep fry it!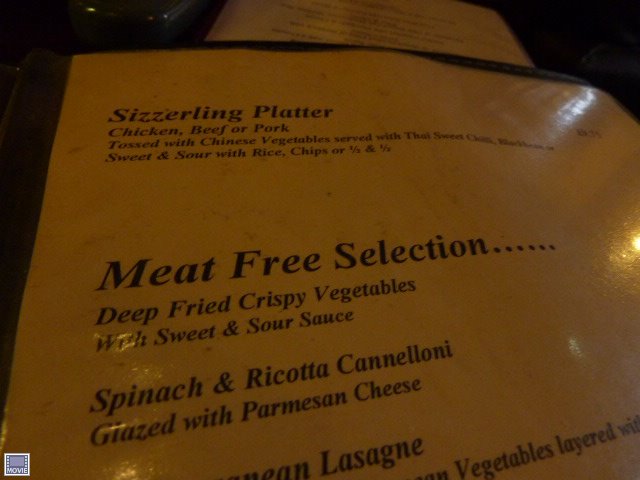 Day 6 - Back home yet only half way
Winsford to Lancaster - 138 kms and 200 metres of ascent
A cool night meant everything was covered in dew in the morning, knowing that Lancaster (our home) was the destination today meant that we were well motivated to make good time. After dodging some rush-hour traffic near Winsford and speeding through the forests at Delamere we were treated to a mixture of fascinating scenery, the cycleway alongside the River Weaver and its impressive Railway viaduct were a real surprise. A train carrying 100's of cars rumbled along above us.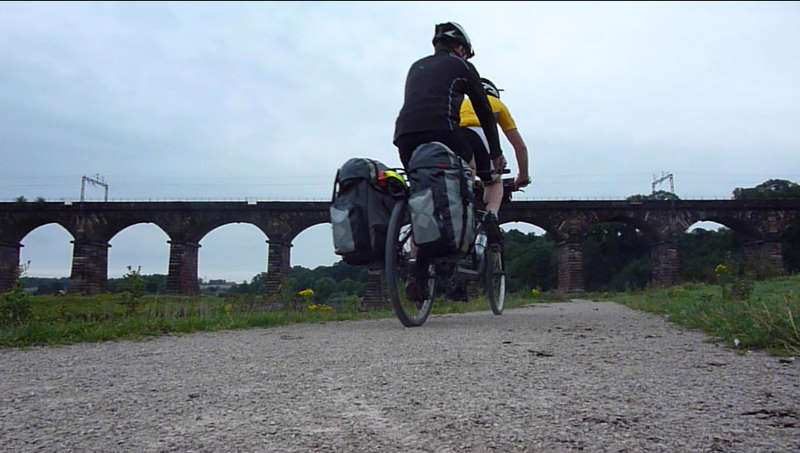 Today was a tour of some of Lancashires many waterways and rivers, The Bridgewater Canal, River Mersey, The Trent and Mersey Canal, The Manchester Ship Canal, and Sankey Brook for starters. All alternating between dismal urban development and complete tranquility with thriving wildlife.. Fiddlers Ferry Power Station we could see the previous day and now it was looming large.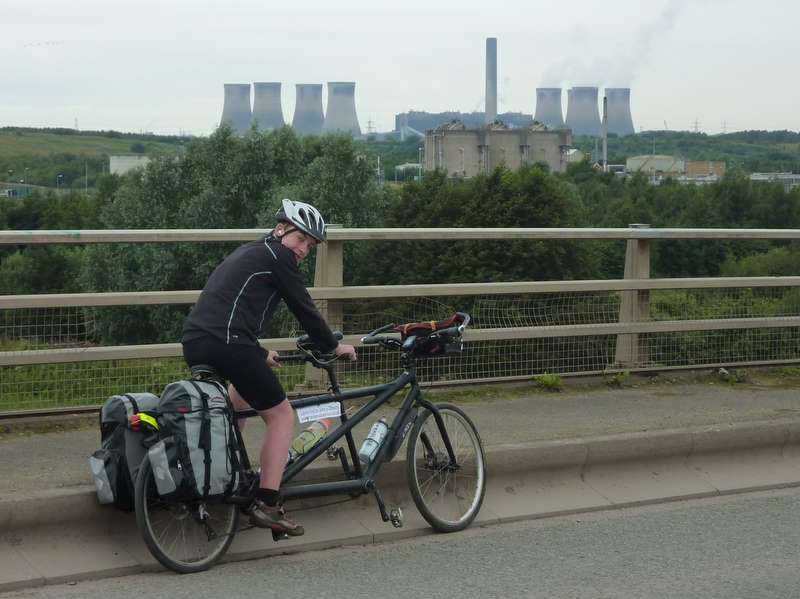 Turning a corner approaching Sanquay we stopped at a "butty wagon" run by two cheerful ladies, this was Alfresco dining Lancashire style. Underneath huge powerlines and right next to a substation. It was a relaxed place though and great value. One of the options on the menu was "Big and Fluffy Bin Lid". View to slideshow to find out what that is! The ladies asked to have their picture taken on the tandem.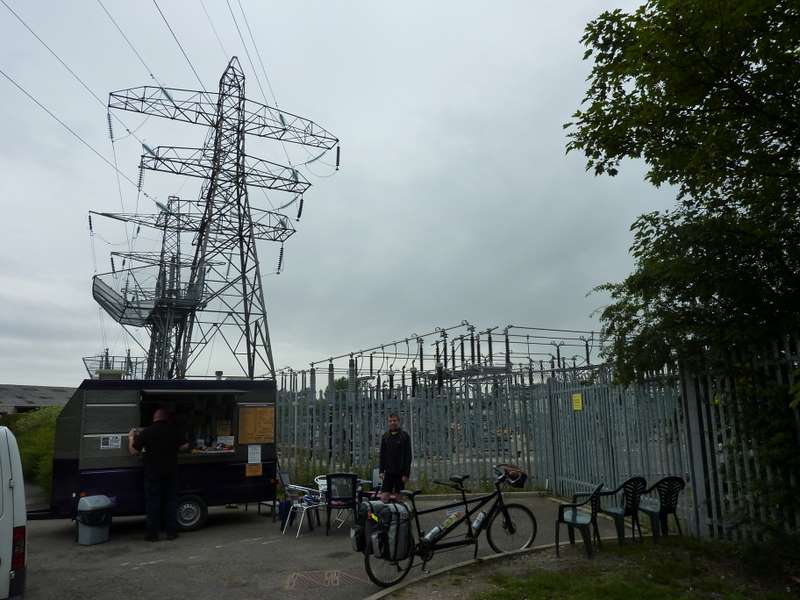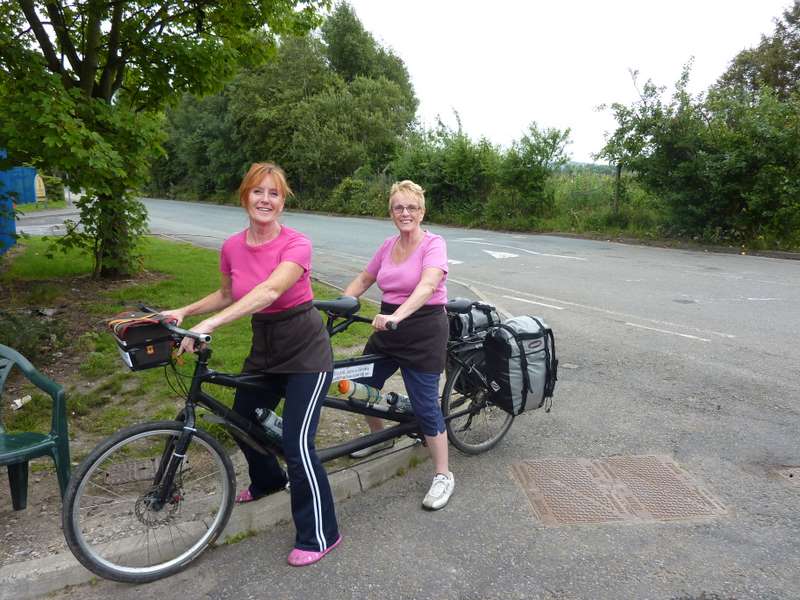 Soon after we had our first puncture, a shard of glass causing instant deflation in the front tyre. Then came some of the journeys best wildlife so far along the Sanquay River. Some coot chicks being fed by their attentive parents, diving down to get the best weeds. Then we watched a moorhen collecting waterlilly leaves and passing then to its mate, who was sat on an increasingly large nest. It wasn't quite sure what to do with a long stick it's mate ferried over though.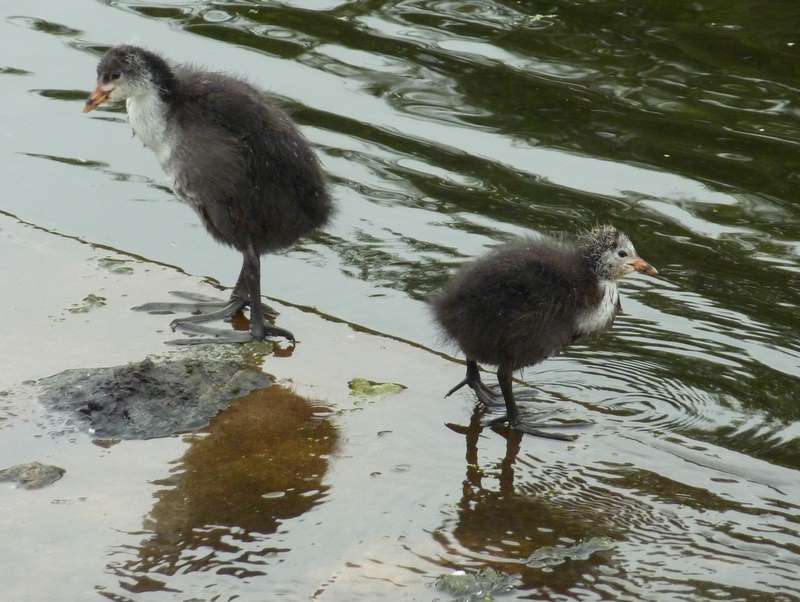 Long sections of cycleway along disused railways and canals took us further north, interspersed by not so scenic sections such as the Haydock Business Park and a massive Sainsburys distribution centre. Only in Lancashire would you get a scenic attraction called "The Mucky Mountains". Apparently the old chemical works used to pump out tons of Hydrochloric acid into the streams! The Mucky Mountains are near Newton le Willows by the way.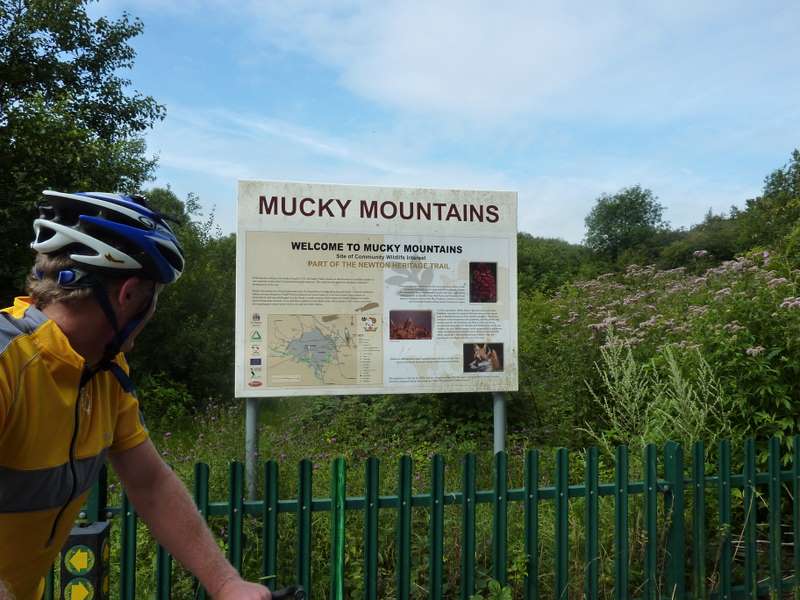 Preston is not particularly cycle friendly, the car has been well looked after here, and a short section of busy roads and traffic lights had to be negotiated. Stopping and starting is hard work on the fully laden tandem, so traffic lights are a real pain!
The cyclepaths also can mean lots of stopping and starting to get through very narrow gates and around barriers. These are designed for standard bikes and getting throiugh them with a tandem can be hard work. We still averaged over 20kmh today though and arrived in Lancaster at 3.40pm. IIn time for a quick interview with Radio Lancashire.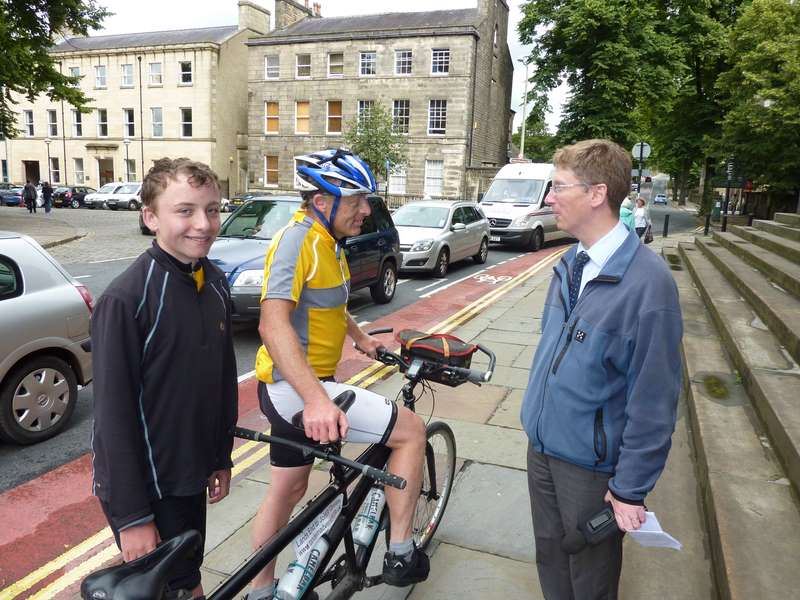 Now we are having a couple of days "rest". We will be busy cleaning the bike, making repairs to the rear carrier which has prett much collapsed under the constant pounding it has received. We also have to plan the next sections of route through Scotland. So plenty more to look forward to!
Day 5 - Severn Up
Bucknell to Winsford - 138kms 990 metres of ascent
A glorious day heading North through all of Shropshire and onto the Cheshire plains,
Matty says "It was cool and flat and our easiest long day, full english breakfast at Bishops Castle was very filling".
Eagle eyed (or should I say buzzard eyed) Matty spotted another opportunity for some wildlife shots.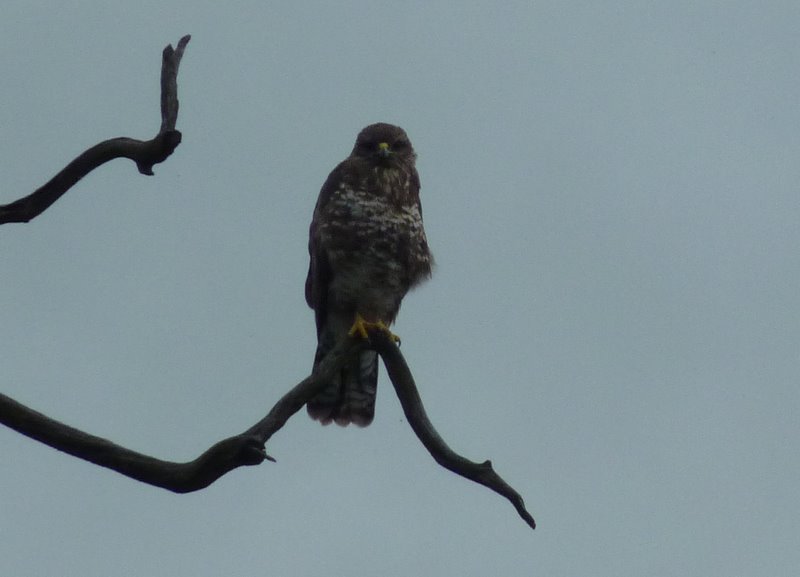 Zipping along into the heart of Shropshire we rattled off 20kms in our first hour, in fact that was to be our average speed for the day even though we took in the highest part of the ride so far, a steep climb over the Stiperstones to an altitude of 440 metres.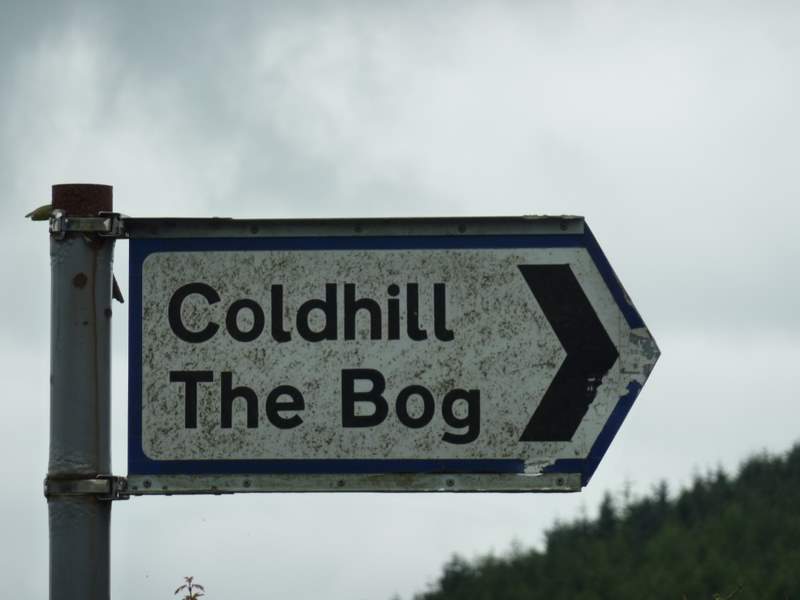 More curious place names today. We decided that whoever named "Cold Hill" and "The Bog" (signposted of to the left at one point) was not trying to encourage people to settle there. Snailbeach also seemed odd (nowhere near the sea). There were though many more delightful villages with more timbered houses and thatched roofs.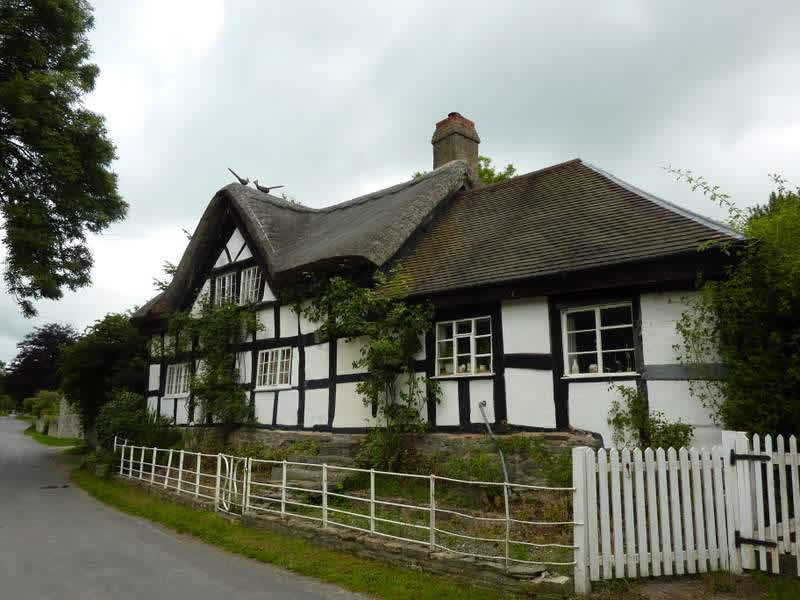 Bishops Castle (sounds like a chess move) marked an excellent breakfast in a "locals" cafe, great value and it gave us energy for the big climb over the spectacular scenery of the Stiperstones, an area of high moorland with odd spikey Quartzite outcrops.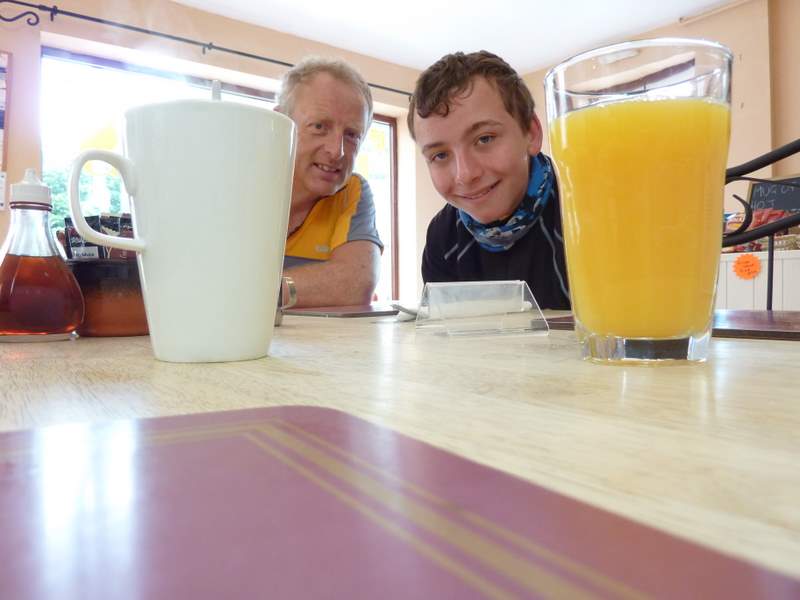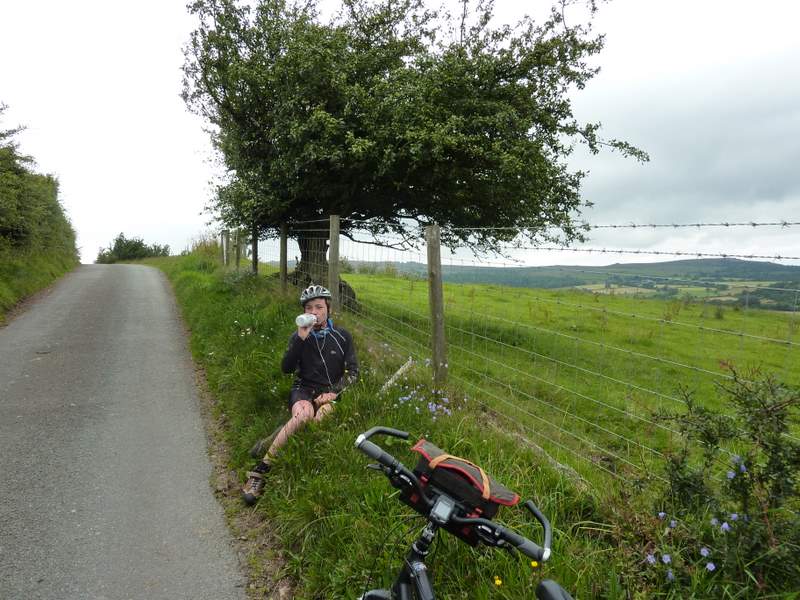 After the highspeed descent we hit cycle friendly terrain, gentle gradients and long flat sections that had us bowling along at a good pace.
After swapping England for Wales on several occaisions we eventually left Wales for the last time as we crossed the Severn again over a narrow old metal bridge, here the river is idyllic and we chatted briefly to a couple of people heading down stream in a canoe, they were heading to Ironbridge. The timber church at Melverly was astonishing, 1000 years old and well worth seeking out.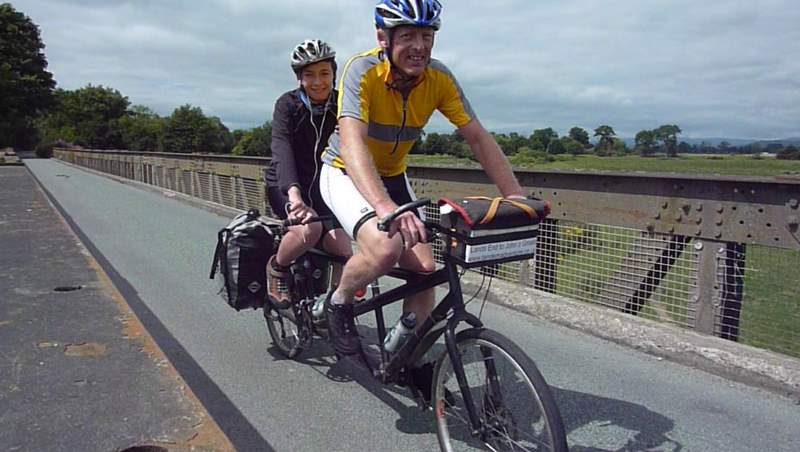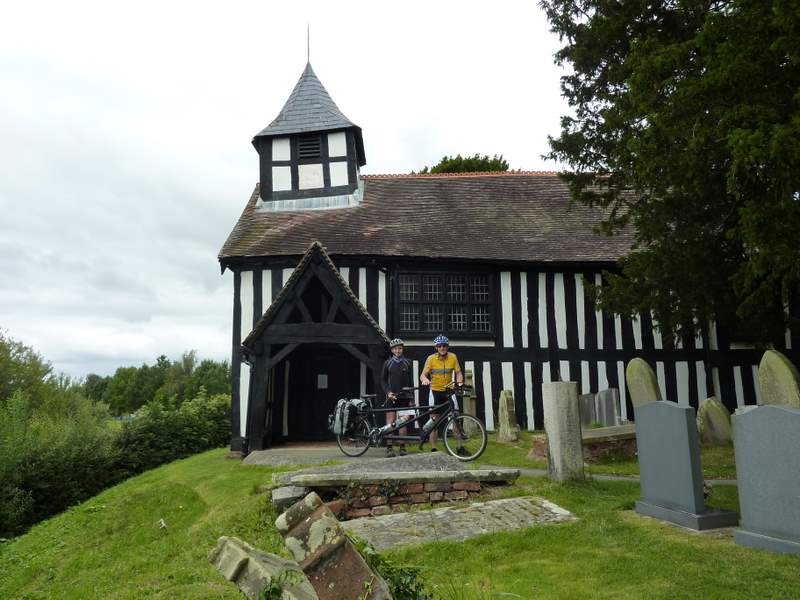 At West Winsford we bought and eat a sizeable tub of banana ice cream, and some "Welsh Cakes", although we were now back in England of course. The next landmark was Beeston Castle, teetering on a sandstone outcrop, and marking the approach to the Cheshire plains, laid out beneath us with even Jodrell Bank visible in the distance.
Over the Shropshire Union Canal and not long after the upmarket highstreet of Tarperley we finished for th eday near Winsford. Yet again we slept under starry skies. Just a days cycle now to the half way point!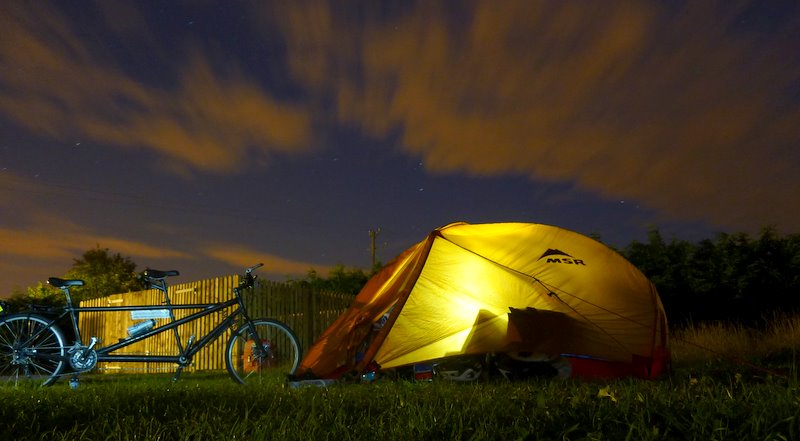 If you haven't sponsored us so far (we are raising much needed funds in order to provide drinking water for school children in Uganda) please do so here!
Day 4 - England, Wales, England, Wales, etc
Bristol to Bucknell - 148kms and 1600 metres of ascent
The return journey out of Bristol was much less hilly and took us along a great cycleway through beautiful parkland. The roads were quiet, it being Sunday morning. The Severn Bridges are amazing structures, we were crossing the old bridge on a cycleway, stopping to look at the muddy waters of the Severn the speed of the tide coming in was impressive, a good few miles an hour, swirling with the output of the Severn.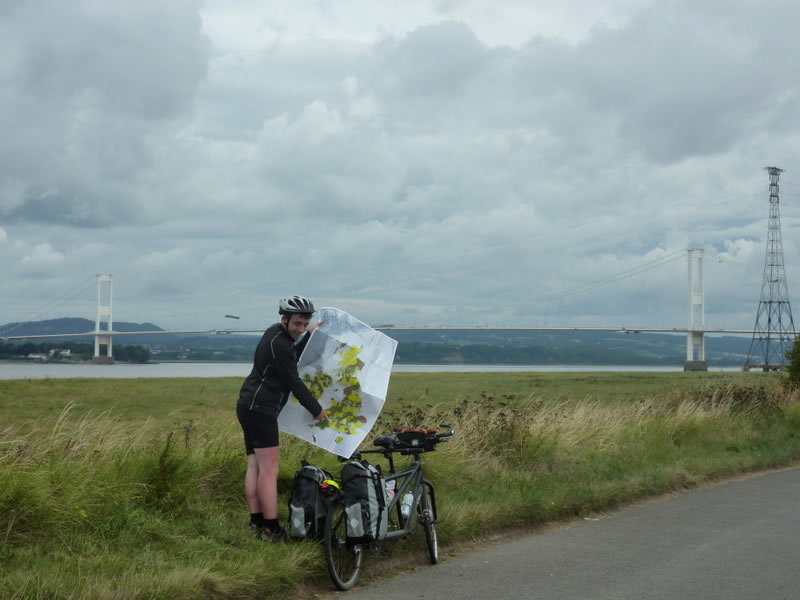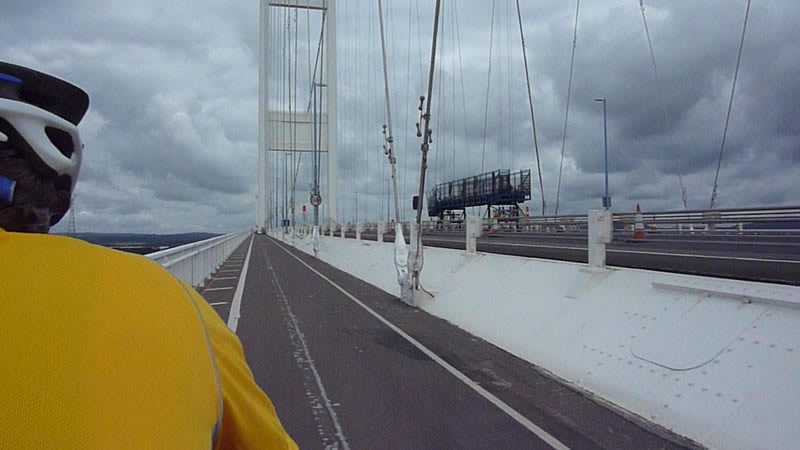 Soon we were in Wales and a long section of uphill past Chepstow Race Course, and then a severe climb on the back roads to Monmouth. The GPS registred a 1 in 4 section and and even for a few seconds 1 in 3! Needless to say with a fully laden tandem we were not moving fast, our average on arriving at Monmouth was just 10mph, a slight headwind didn't help either.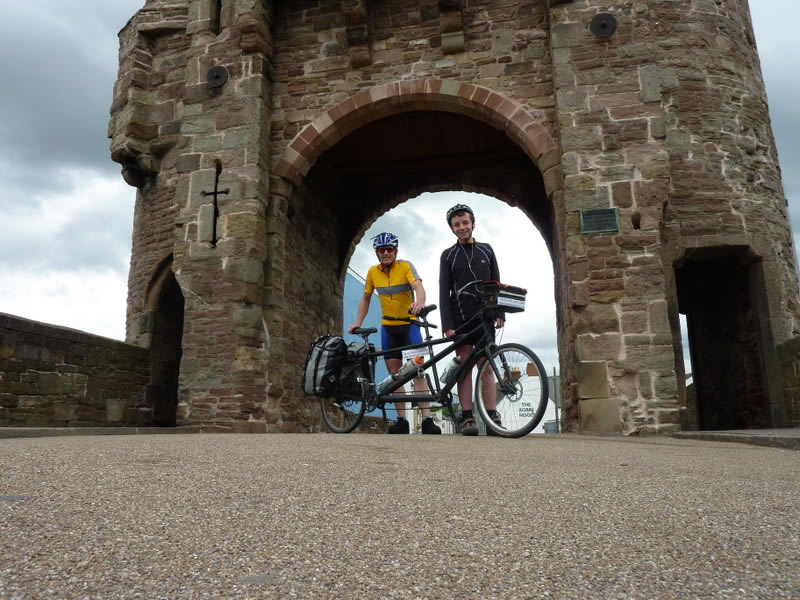 At Monmouth we filled up on goodies from Waitrose (including a huge bowl of salad that didn't last long. A friendly couple sponsored us £10 when they saw our tandem leaning up outside the supermarket. The next part of the day took us right along the English Welsh border, in fact in and out of Wales on countless occaisions. Also upo and down some more pretty severe hills, before gradually the Wye Valley roads gave us so more gentle terrain and our average speed gradually picked up.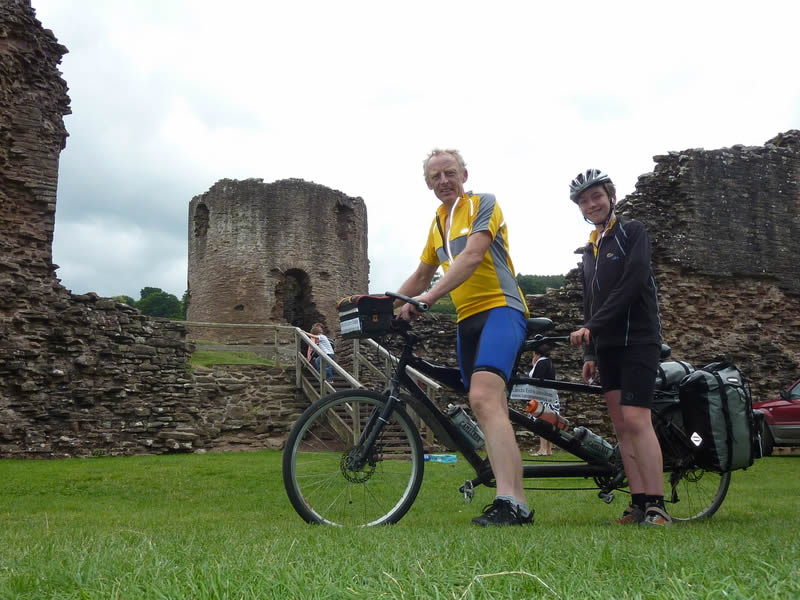 Stopping at a small village hall at about 5pm we got a free cake with our water bottle refill, the ladies tidying up after serving teas couldn't beleive how far we had come or still had to go. "Bucknell - where is that?"
This area of the UK seems very sparsely populated, rolling hills, lots of trees, very little traffic away form the mainroads (we were on lanes virtually all day). The small villages are picture postcard material with their black and white timber houses. At the very end of the day after over 8 hours of hard pedalling we crept into Shropshire, that felt like a landmark.
We set up camp quickly and were soon tucking into a well deserved meal at the Baron of Beef pub in Buckland.
Day 3 - Chedder, Strawberries and apples
Taunton to Bristol - 102 kms and 670 metres of ascent
Well rested we left Taunton on another bright and breezy day. Heading onto the Taunton Canal for the first few miles, flat but gravelly. A tiny vole ran across the track and seemed quite tame when we stopped to photograph it. Soon we were onto the Somerset levels, apparently basket making is a speciality here. Along one road most of the houses seemed to be sinking into the drainage canal behind them, all leaning away from the road at quite severe angles.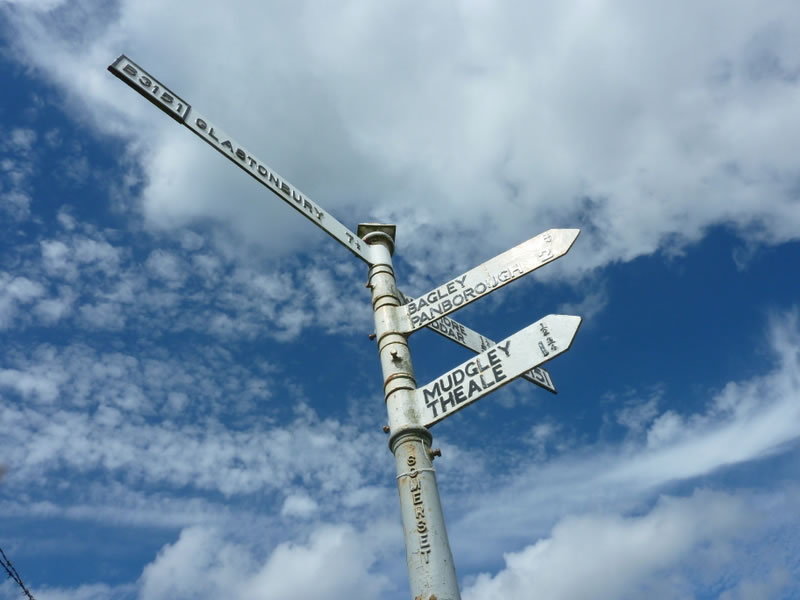 Place names are endlessly entartaining, Cornishl names would be good scorers in Scrabble, Somerset names have a more humurous sound. "There was a young lady from Mudgley....."
Next was Athelney, Alfred burnt his cakes here apparently, then Sedgemoor, now home to the rather boring, but apparently good, peat museum. Huge piles of peat either side of the road were evidence this trade continues. Sedgemoor was also the site of the last battle on English soil (or was should that be peat)
Arriving at Cheddar we avoided the "cheesy" tourist attractions, had an excellent meal in a cafe away from the tourist area, and cycled part way up the gorge to view the amazing rock scenery.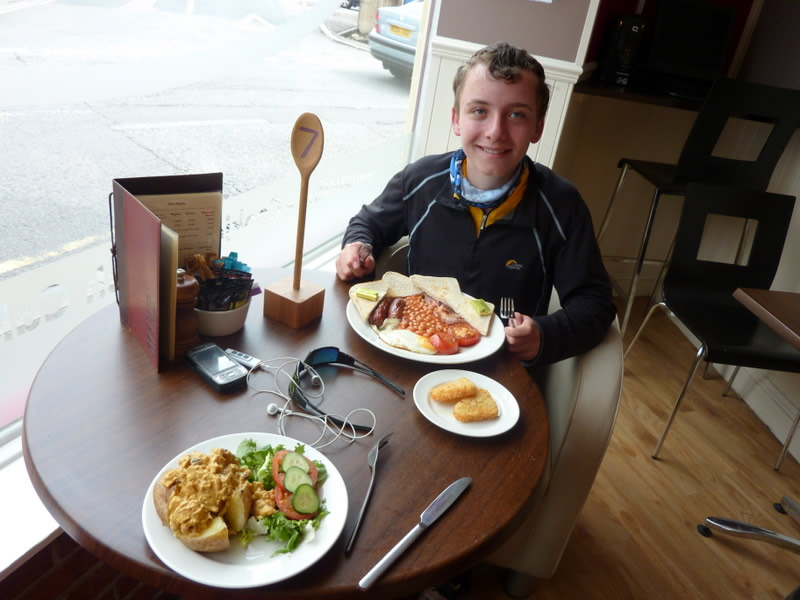 Cheddar seemed to be full of cyclists as well as tourists, we met some other "End to End'ers" as well. Of course you tend to meet the ones going the opposite way more, so it's hard to tell how many are heading North like us,.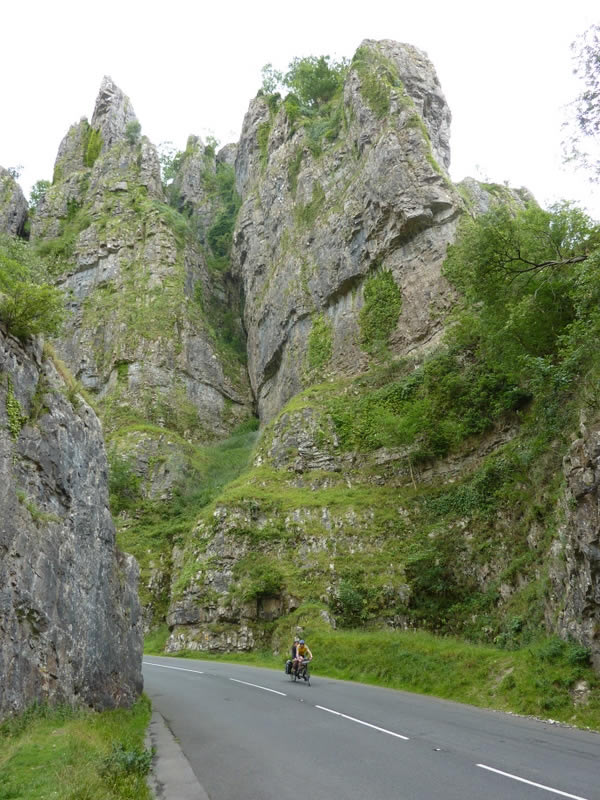 After the Cheese came Strawberries, in the guise of the Strawberry Line Cycle Way, leading all the way from Chedder to Yatton. A pleasant 15 mile run where we picked up a head of steam at times, despite the variable surface. Although so of the gateways were rather narrow for our tandem.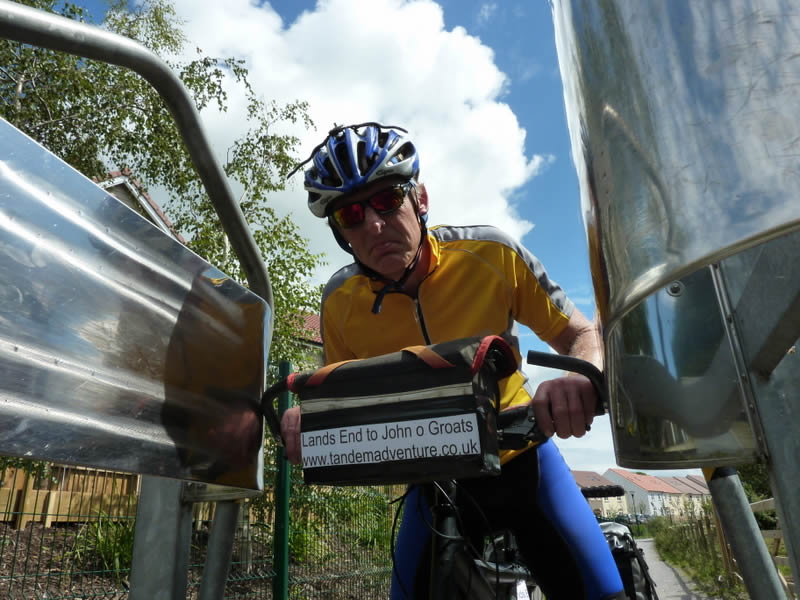 Through fields of Wheat and with a helpful tailwind the miles clicked by quite easily, and next came apples, in orchards destined for Cider.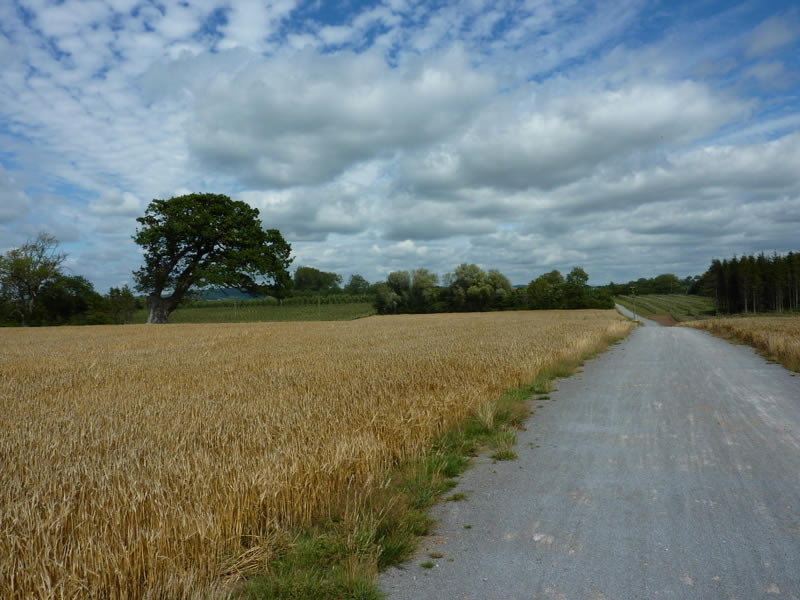 All this flatness had to end and the climb on the M5 bridge and over several severe hills in to Bristol had us working hard. Now out of Somerset and with the Severn Bridges beckoning in the distance we really feel we are making progress.


Day 2 - The Devon Rollercoaster
Altarnun to Taunton - 142kms and 1650 metres of ascent.
Another early start but we didn't actually leave until 7.20am.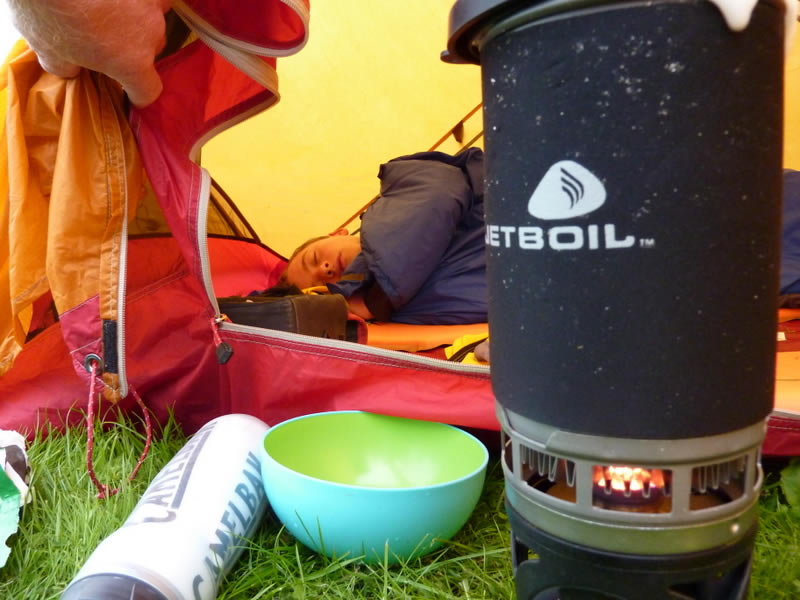 We still hadn't made much of an impact on the route yet, but today we were going to do a full county in one day.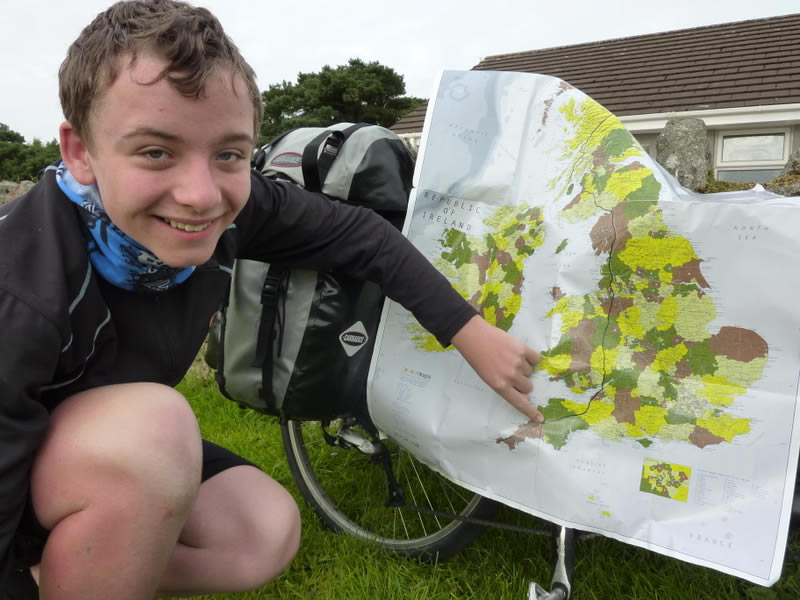 Quiet lanes and more buzzards perching on the telegraph poles. A good run into Launceston at 20kph, then the hills started again. But before then we had time to get a last genuine Cornish Pastie, freshly baked, there were racks of them ready to be cooked. A Launceston Pastie is a wonder to behold, especially if you are a hungry cyclist. This is all they live on down here. Next was Devon, that meant cream teas, but that didn't work out, it wasn't quite as touristy as Cornwall so they weren't trying to ram them down your throat. Not that we would have need much encouragement.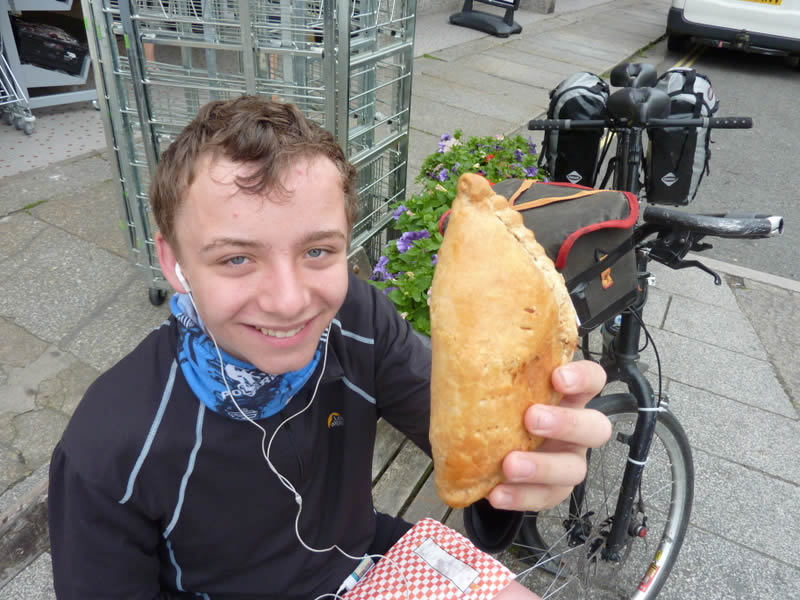 So on intro Devon, and we now exchanged the Cornish Roller Coaster for the Devon one, a more gentle affair, but after a while just as arduous.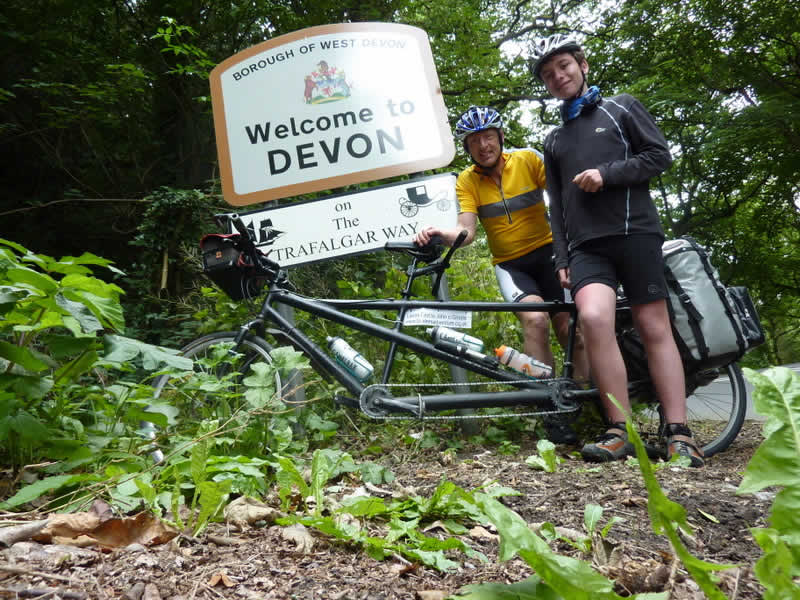 The hills here are longer and straighter, but at least you get to hold onto some momentum heading up the other side after a high speed descent. Still heading across the grain of the country we racked up around 5,000 feet of ascent, but with a few treats thrown in, the Granite Way Cycle track near Okehampton (we overtook a train running on the adjacent tourist railway), and a long section of canal near Wellington. Some of the lanes are like trenches, earth banks with a hedge on top. You don't get much of a view on these sections, but at least you can't see the next hill coming.
Nearly 90 miles racked up before heading into a friendly welcome with relatives at Taunton. Somewhere we had crept into Somerset.
Day 1 - The Cornwall Roller Coaster
Lands End to Altarnun - 144 kms and 1,700 metres of ascent. (+ 10 kms getting to Lands End)
After a wet night the dawn was thankfully clear. After dropping the lighter in some water we failed to have any meaningful breakfast so headed of to Lands End through the misty lanes and by 7am we at the start line for proper.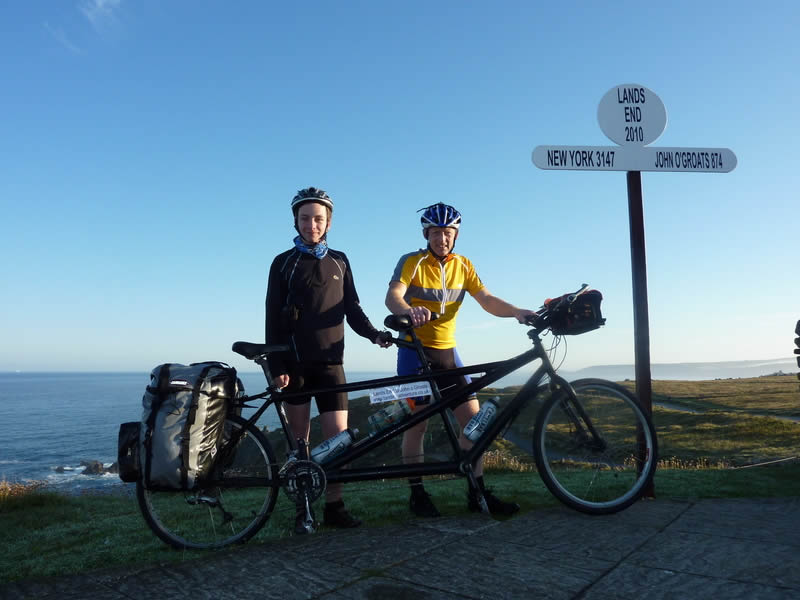 Everywhere was deserted as we headed East into the sun. past the first last pub, the first/last cafe, the first last, oh well, you get the idea!
The first section on very narrow lanes was idyllic but very hard work, the start of the Cornwall roller-coaster. Most of the dips into the bays had sharp hairpins to prevent speeding cars, it also prevented us taking any of our hard earned momentum up the next hill! Countless headlands had the be crossed and by the time we got to St Just we were ready for some food! (10 miles of End to End done, but an extra 5 for us as well). Every other shop in St Just sells Cornish Pasties it seems, so I had to try one! Bacon and Cheese, very nice. Matty had a Sausage roll and we also tucked into some food from the co-op rather than splashing out £17 on Breakfast (what it would have cost in a cafe here!
Back onto the roller coaster, past the old tin mines as Cornwall started to wake up properly. St Ives was beautiful with the clear water sparkling and the colourful houses around the harbour, but it was full to bursting with tourists.
St Agnes meant a brief stop for some drinks, "Boost" energy drink from local store seemed to do the trick.
Newquay next, overtaking a tourist mini train was fun, but the climbs on the next section were not!
Looking at the UK map showing our full route, 4 hours of tough cycling had not made much of an impression, Matty didn;t seem to be phased by it though.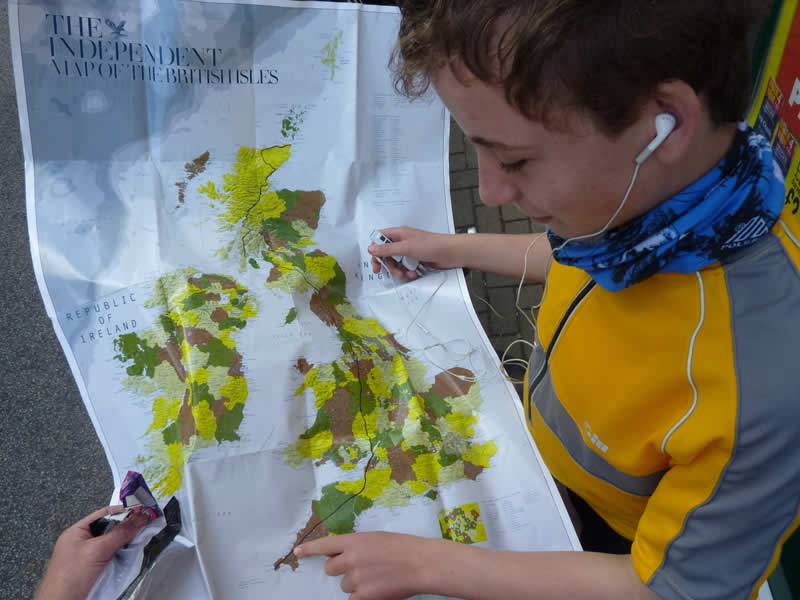 The roller coaster cam to an end at Padstow, St Ives seemed quiet in comparison. We weaved through the crowds to find our way to the passenger ferry across the Camel Estuary. A delightful, but at £4 for about 300 metres, expensive trip.
The roller coaster may have ended but the days high poit was yet to come, a long gradual climb up to Delabole, a mining town that felt more like North Wales than cornwall. Stopping for more drinks and snacks we then headed away from the coast (next time we see it will be Bristol). Crossing the A39 we hit on a great section of road past old airstrips, gradually descending towards our campsite at Altarnun. A friendly welcome, the lady returned our camp fee as sponsor money!
Day 0
The most uncertain part of our trip, getting to the start! Eventually we decided to take the risk of travelling by train with a tandem. Previous attempts at this had been tricky to say the least, but the new strategy of using a custom made bike bag (made by carradice.co.uk) pretty much disguised the tandem (in the bag with it's wheels off) as a normal bike. Taking the pedals off makes it even more compact and manageble. Certainly the guard at Lancaster and the guard on the train didn't bat an eye lid! In fact the tandem like this is only 30cms longer at most than a bike with wheels on, we will see how it goes when changing at Birmingham and Penzance!
An extra treat was seeing the Fellsman Steam train at Lancaster Station, the dining carriage looked very inviting!
We made it to Penzance OK and reconstructed the bike before pedalling out of the sun and into a miserable evening of rain. Camping by a derelict hut in what seemed to be an abandonded camp site. The toilet block was the stuff of nightmares!
---
Someone asked "will it be like this"

I hope not!